Several University of Virginia-related people and entities were honored at the Charlottesville Business Innovation Council's annual CBIC Gala, held May 18 at the Boar's Head Inn.
The non-profit council, founded in 1997, has as its mission "to educate, celebrate and advocate for Charlottesville's technology community and to accelerate technology innovation and entrepreneurship in the region."
Benton Calhoun, a professor of electrical and computer engineering and one of the founders of PsiKick Inc., was named CBIC Innovator of the Year. Calhoun and co-founders Brendan Richardson and David Wentzloff are working to commercialize self-powered wireless sensors.
The Center for Open Science, founded by psychology professor Brian Nosek, was named the CBIC Start-Up of the Year. The center works to increase the openness, integrity and reproducibility of scientific research.
The council recognized the team behind AgroSpheres as the CBIC Student Entrepreneur Team of the Year. The company, founded by seven UVA students and recent graduates and including pharmacology professor Mark Kester, is commercializing inert particles that, among other things, can reverse the effects of pesticides to speed crop harvests.
Alumnus Baron Schwartz, the lead author of "High Performance MySQL" and the founder of VividCortex, which provides database monitoring tools and services, was named CBIC Entrepreneur of the Year. Schwartz earned his B.S. in computer science from the University in 2003.
Katie Murphy, marketing manager for the UVA Foundation and a manager of the UVA Research Park, was named CBIC Volunteer of the Year. Murphy serves on the council's governing board and has chaired its Marketing Communications Committee for several years. At the UVA Foundation, she also chairs the volunteer planning committee that stages the annual 4 the Wounded 5K, which raises funds for the Wounded Warrior Project.
Attendees at the event also voted to give the council's first Social Good Award to PureMadi, a UVA-based social enterprise that has brought inexpensive water treatment to 55,000 people in 41 developing countries to date.
Alumni Association Confers Annual Distinguished Awards
The UVA Alumni Association hosted its annual awards luncheon at Alumni Hall on April 21, presenting three awards to recognize leadership and service to the University.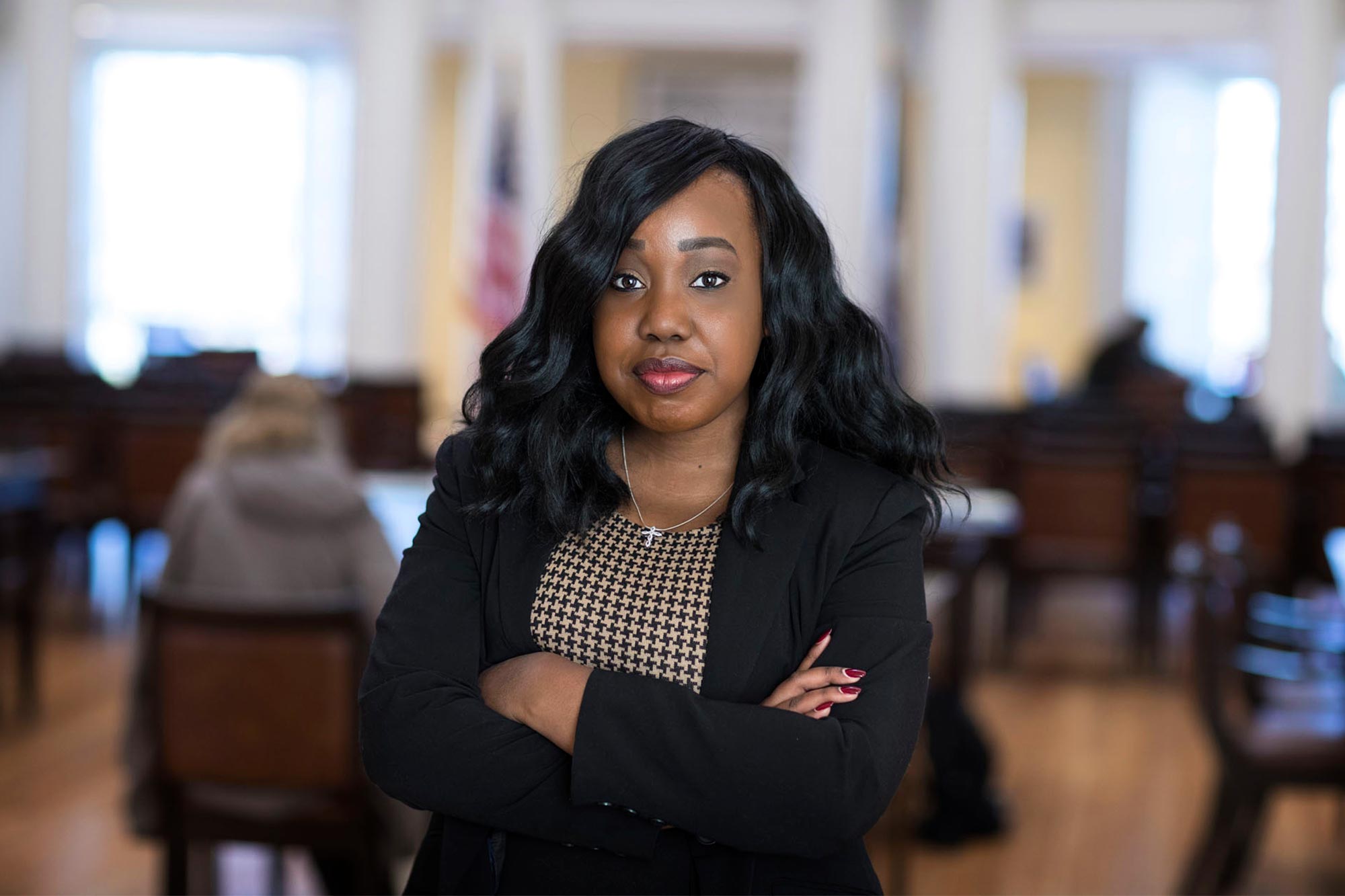 Recent graduate DeAnza Cook won the Alumni Association's Ernest H. Ern Distinguished Student Award. (Photo by Dan Addison, University Communications)

Then-fourth-year student, and now alumna, DeAnza Cook received the Ernest H. Ern Distinguished Student Award. Cook, an Echols Scholar and Harrison Undergraduate Research Award recipient, received a history degree with distinction May 20 and has been accepted into Harvard University's legal history Ph.D. program. Her leadership activities at UVA have included living on the Lawn this year as the senior resident, contributing as a fellow of the Meriwether Lewis Institute for Citizen Leadership and being recognized as Outstanding Attorney and Witness on six occasions in American Collegiate Mock Trial competition.
Malcolm Stewart, president of the Class of 2018, said, "DeAnza Cook is one of the most passionate, caring and inspirational leaders at the University. She has set a standard of going above and beyond, both academically and in her extracurricular life."
Assistant Vice President for Student Financial Services Stephen Kimata won the Distinguished Service Award. Kimata has worked for UVA for more than 34 years. In his current role, he interacts with students on a daily basis through Student Financial Services, a department responsible for student billing, collection and financial aid.
Disha Venkatesan, director of administration and strategic initiatives, said, "I personally admire Steve's management ability. He has transformed the Student Financial Services office to a well-functioning student services group." She added, "He is a fine person who in a very demanding job has been able to reconcile the legal requirements of financial aid with the compassionate needs of specific students."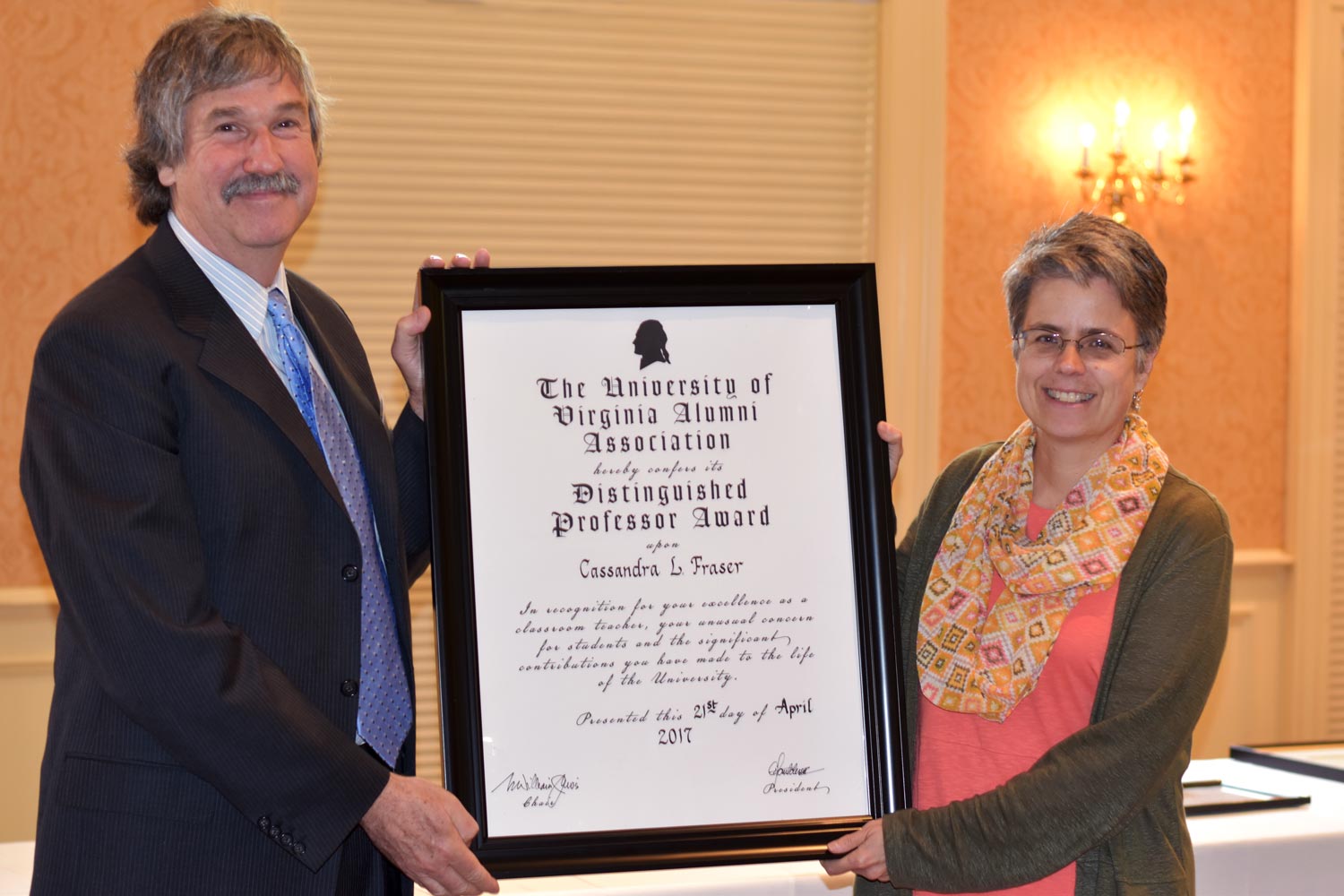 Chemistry professor Cassandra Fraser, right, won the Alumni Association's Distinguished Professor Award. (UVA Alumni Association photo)
Chemistry professor Cassandra Fraser earned the Distinguished Professor Award. Fraser has been a professor at UVA for more than two decades. Architecture professor Bill Sherman described her as "committed to the development of the student as a whole person, not just their performance on an 'Organic Chemistry' exam."
Fraser's research has earned awards including the Rockefeller Foundation Bellagio Residency, the Humboldt Foundation CONNECT grant and Japan Society for the Promotion of Science Fellowship.
"Cassandra Fraser exemplifies the compassion, the heart, the creativity and the brilliance that we so value in our top educators at UVA," said chemistry department chair W. Dean Harmon.
Each Distinguished Award consists of a framed certificate and a cash award. The Distinguished Professor and Distinguished Student also received a life membership in the Alumni Association. The Jefferson Trust, an initiative of the Alumni Association, provides funding for the awards.
Statistics Professor to Head National Organization
Karen Kafadar, chair and Commonwealth Professor in UVA's Department of Statistics, has been elected the 114th president of the American Statistical Association. She will serve a one-year term as president-elect beginning Jan. 1; her term as president becomes effective Jan. 1, 2019.
"Complex problems – such as detecting emerging epidemics, ensuring food safety, protecting communications and other infrastructure networks and establishing overall reliable standards – cannot be solved by single individuals. Statisticians are critical components of teams that address problems in academia, industry and government, and yet, all too often, their involvement arises by serendipity," Kafadar said.
"I'm eager to serve as ASA president in 2019 and look forward to engaging ASA members and the broader statistical community to expand efforts that will forecast areas of change, inspire the next generation of statistical thinkers and generate diverse opportunities for professionals to grow collectively and in their specialty."
Kafadar's research interests focus on robust methods; exploratory data analysis; characterization of uncertainty in the physical, chemical, biological and engineering sciences; and methodology for the analysis of screening trials.
Kafadar currently serves as the biology and genetics editor for The Annals for Applied Statistics and chairs the American Statistical Association's Committee on Statistics in Forensic Science. She also serves on the Forensic Science Standards Board and is active on National Academy of Sciences committees. Author of more than 100 journal articles and book chapters, she is a fellow of the ASA, American Association for the Advancement of Science and International Statistical Institute.
UVA Law Professor Delivers Major Lecture at Oxford
Law professor Frederick Schauer delivered the H.L.A. Hart Memorial Lecture at Oxford's University College on May 9.
The annual lecture, named for the late Oxford professor of jurisprudence, is considered one of the most esteemed scholarly lectures in the world. Schauer spoke on "The Perils of Panglossian Constitutionalism" in Christ Church College's Blue Boar Theatre.
Drawing on research in cognitive psychology as well as insights from philosophy and legal theory, Schauer in the lecture explored – and lamented – the increasing tendency to avoid conflicts between rights and policy, or between rights and other rights, by interpreting the empirical world or defining rights in ways that make the conflicts evaporate.  
"Such a tendency fails the standards of intellectual honesty as well as produces rights that are less able to resist the pressures of changed empirical conditions," he said.
Previous Hart Lecturers have included U.S. Supreme Court Justices William Brennan and Stephen Breyer.
Schauer is a David and Mary Harrison Distinguished Professor of Law at UVA. A fellow of the American Academy of Arts and Sciences and recipient of a Guggenheim Fellowship, Schauer is the author of "The Law of Obscenity," "Free Speech: A Philosophical Enquiry," "Thinking Like a Lawyer: A New Introduction to Legal Reasoning" and, most recently, "The Force of Law," as well as many other books and articles. He has written widely on freedom of expression, constitutional law and theory, evidence, legal reasoning and the philosophy of law.
Kirsten Jackson Receives University's Award for Excellence in Graduate Diversity
Rising third-year law student Kirsten Jackson recently received the University's Award for Excellence in Graduate Diversity.
The award recognizes the service of a student who has gone above and beyond the requirements of their graduate program in an effort to improve their community, field and society.
Jackson has "chosen to apply her talents to the areas where she sees society hurting the most," said the Law School's senior assistant dean for career services, Kevin Donovan, one of several community members who nominated her for the award. "Through her actions and her programs, she has strengthened our community in fundamental ways and raised the level of understanding about the ways in which inequality persists."
At the Law School, Jackson has served as co-chair of the Admitted Students Open House Cabinet, a founding member of the student group Minority Rights Coalition and treasurer of the Black Graduate and Professional Students Organization. As a peer adviser, Jackson helped guide first-year students through the challenges of law school.
Through her work as social action chair of the Black Law Students Association, Jackson organized events with a goal of addressing issues facing underrepresented groups and to encourage students, faculty and administrators to work together. 
She planned a series of programs for non-member supporters, or allies, of affinity groups like the Black Law Students Association. One event, held in October, focused on how non-black allies could amplify messages of support to black classmates. "Black Lawyers Matter" shirts distributed to event participants are still seen regularly around the Law School.
This year, Jackson started a book club focused on being black in America. The group included faculty, administrators and students, who read "The Warmth of Other Suns" by Isabel Wilkerson and "Between the World and Me" by Ta-Nehisi Coates. They concluded with a dinner and roundtable discussion about allyship at law professor Anne Coughlin's home, Jackson said.
For the Student Bar Association's Diversity Week, Jackson organized the event, "The Legacy of Thomas Jefferson," featuring a panel of experts from the University and Monticello who discussed the changing and complex nature of his legacy. Working with the Office of Student Affairs, she helped arrange a town hall meeting on police brutality.
Nursing Community Fetes Pamela Cipriano
Sigma Theta Tau International, the world's largest nursing honor society, recently held two events to celebrate the accomplishments of UVA nursing professor Pamela Cipriano, currently president of the American Nursing Association.
A luncheon at Pavilion IX on April 25 brought together Sigma Theta Tau International's national president, Cathy Catrambone, with several former presidents of UVA's Beta Kappa chapter and its current president, Ken White, an associate dean of the School of Nursing.
Later that evening, Catrambone spoke at Beta Kappa's semiannual awards ceremony, held in Cipriano's honor.
Postdoc Receives Biochemistry Journal's National Scholar Award
Iga Kucharska, a postdoctoral researcher in molecular physiology and biological physics at UVA's School of Medicine, received the Gordon Hammes Scholar Award, which honors the young scientists responsible for the very best papers published in the journal Biochemistry.
Kucharska was selected from a large applicant pool on the basis of a paper published in Biochemistry on which she was the first author, "Molecular Interactions of Lipopolysaccharide with an Outer Membrane Protein from Pseudomonas aeruginosa Probed by Solution NMR."
Kucharska, who received her Ph.D. from UVA in 2016, currently works in the laboratory of Owen Pornillos in UVA's School of Medicine, where she investigates the role of HIV-1 protein Gag in viral assembly and maturation.
Kucharska will present a talk describing her research and receive her award during the Gordon Hammes American Chemical Society Biochemistry Symposium on Aug. 20, held during the 254th American Chemical Society National Meeting and Exposition in Washington, D.C. 
Article Information
May 24, 2017
/content/accolades-uva-community-well-represented-local-innovation-awards-gala