One of the best things about my job is that I get to take photos from nearly all corners of University of Virginia life. This means I get to attend seminal University events like the Bicentennial Celebration or the naming of a new president. It also means that I get to talk to students about their studio art projects, hang out with the rowing team at an early morning practice, and try to capture the emotion of walking the Lawn at Final Exercises.
Below, in no particular order, take a look at some of my favorite images from 2017 and read the stories behind them.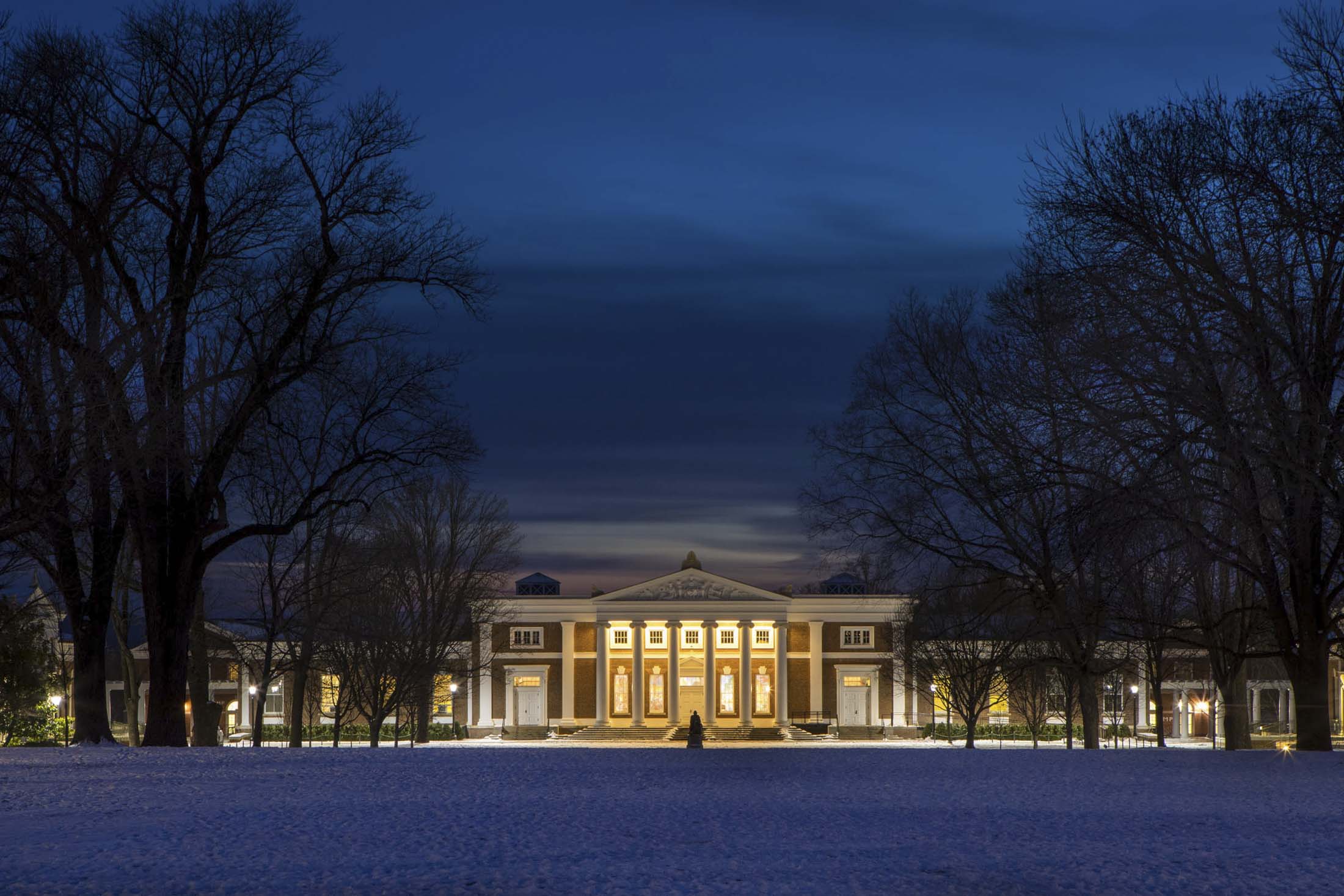 I'm from Buffalo, New York, a place where there's a surplus of snow. Here in Charlottesville, though, it's a rarity, and as such, something many people look forward to. Often when it snows I'll go down to the Lawn at night, a peaceful place that is just a bit more peaceful with a coating of snow.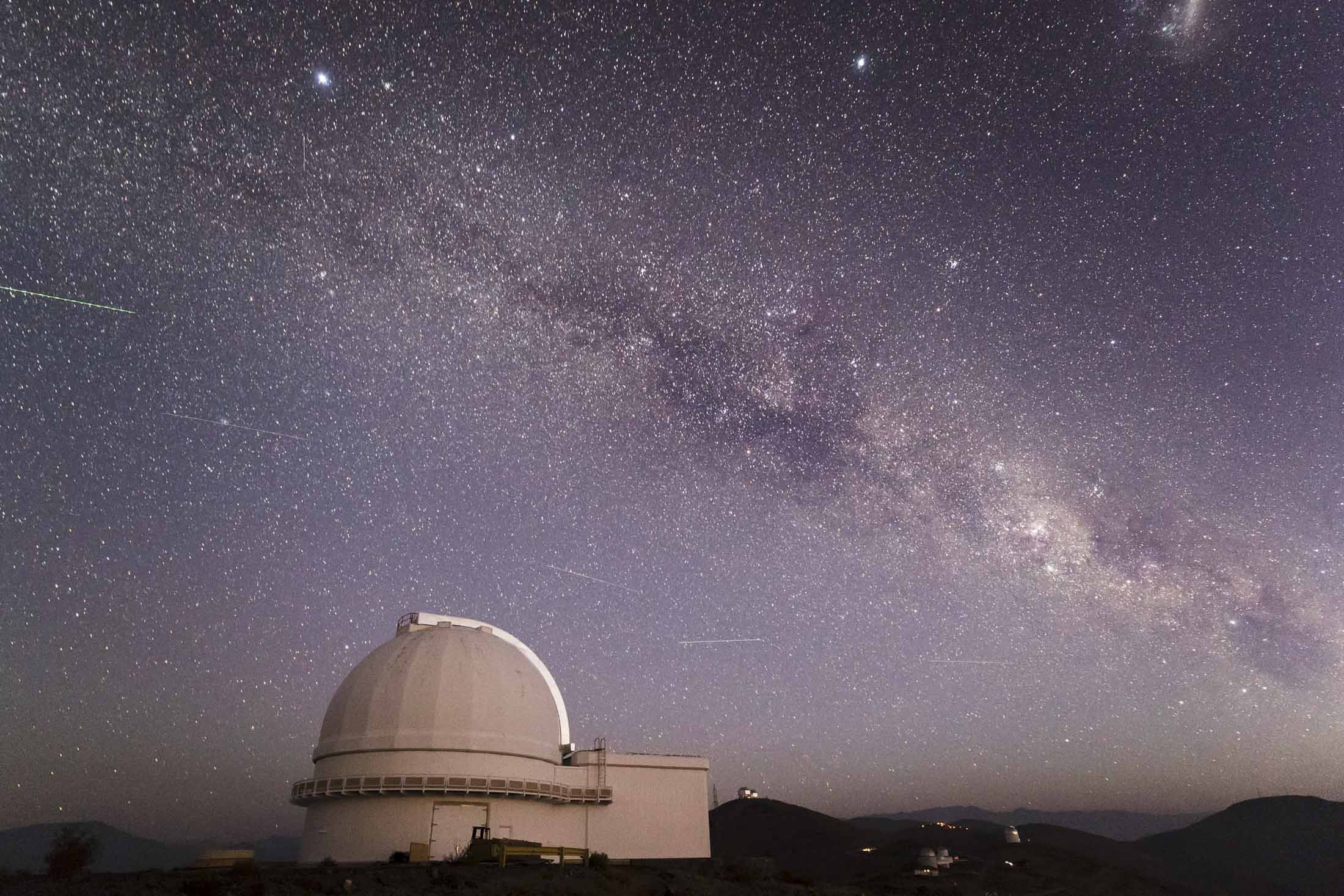 One of the most interesting assignments I've had the privilege to document is the APOGEE project in the Department of Astronomy. The APOGEE team has built an infrared spectrograph, which allows astronomers for the first time to get a complete picture of the composition and motion of the stars within the Milky Way. I was able to accompany the team of amazing scientists to the Atacama Desert in Chile, where they assembled the instrument in this observatory. The stars down there that are visible due to lack of light pollution were amazing.
Learn more about the project and hear from some of the scientists who built it.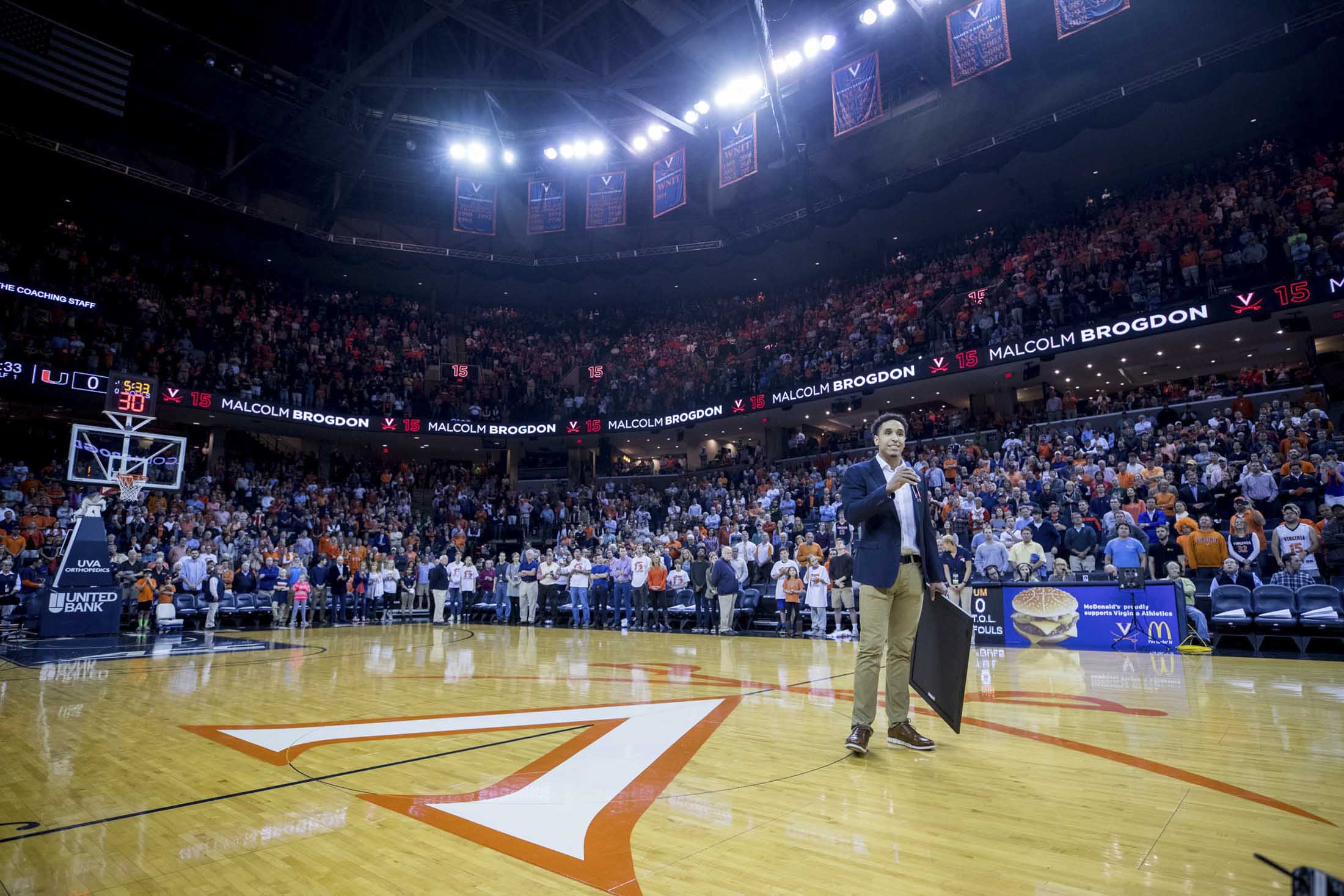 Malcolm Brogdon was one of the most impressive student-athletes I've had the pleasure to watch play. He really epitomizes something special about our student-athletes here: they are more than just athletes. They're also future leaders. To see his jersey retired one year after he graduated was a testament to his hard work on and off the court. I'm excited to see where his career takes him.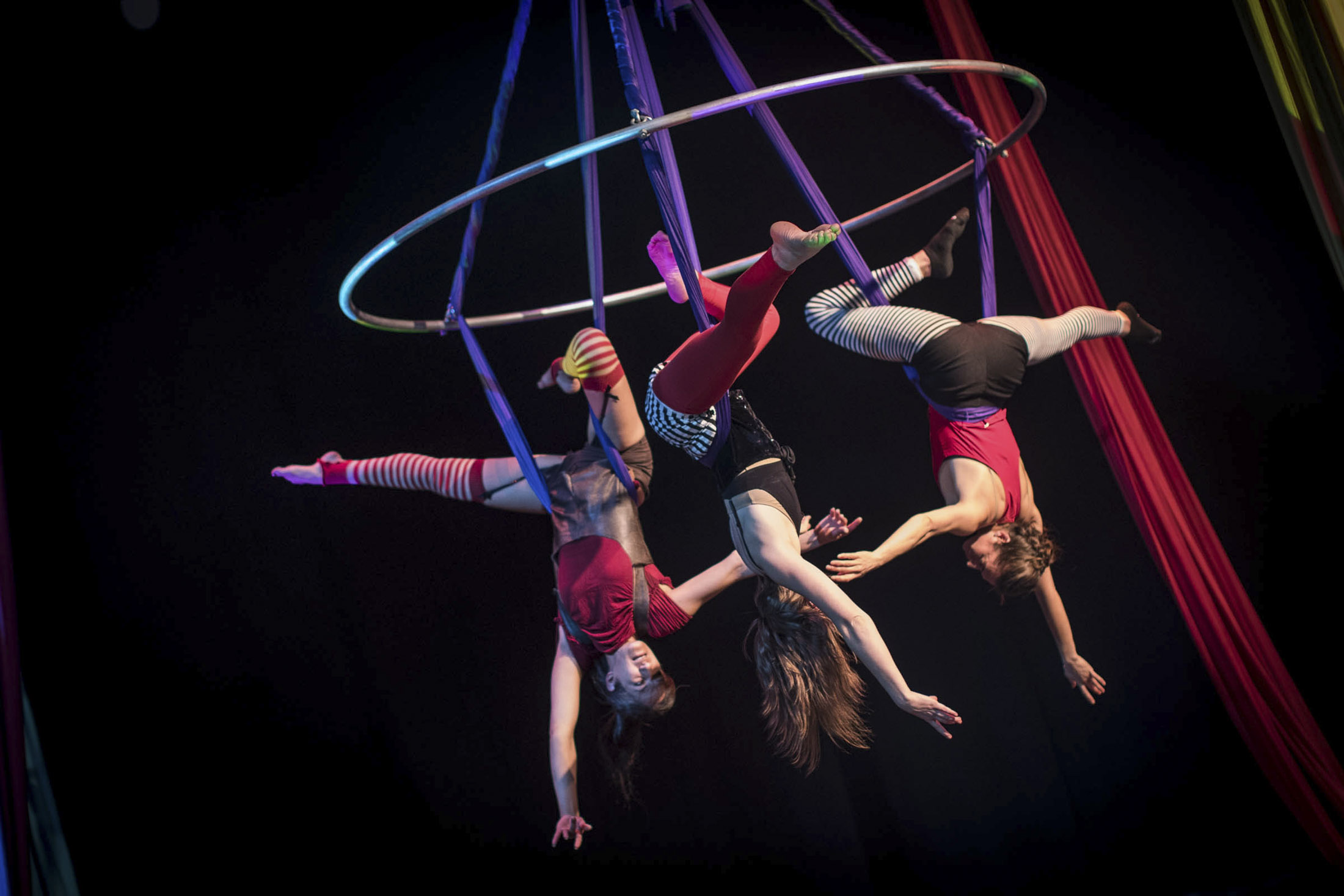 When fourth-year Michael Giovinco sent us an e-mail saying he had written and produced his own circus, I had to read it a few times for it to set in. A circus isn't exactly the type of performance you'd expect to see coordinated by an undergraduate student. However, Michael had produced a professional circus with both traditional and modern interpretations and a wonderful story line. The creativity here amazes me.
See more from the performance.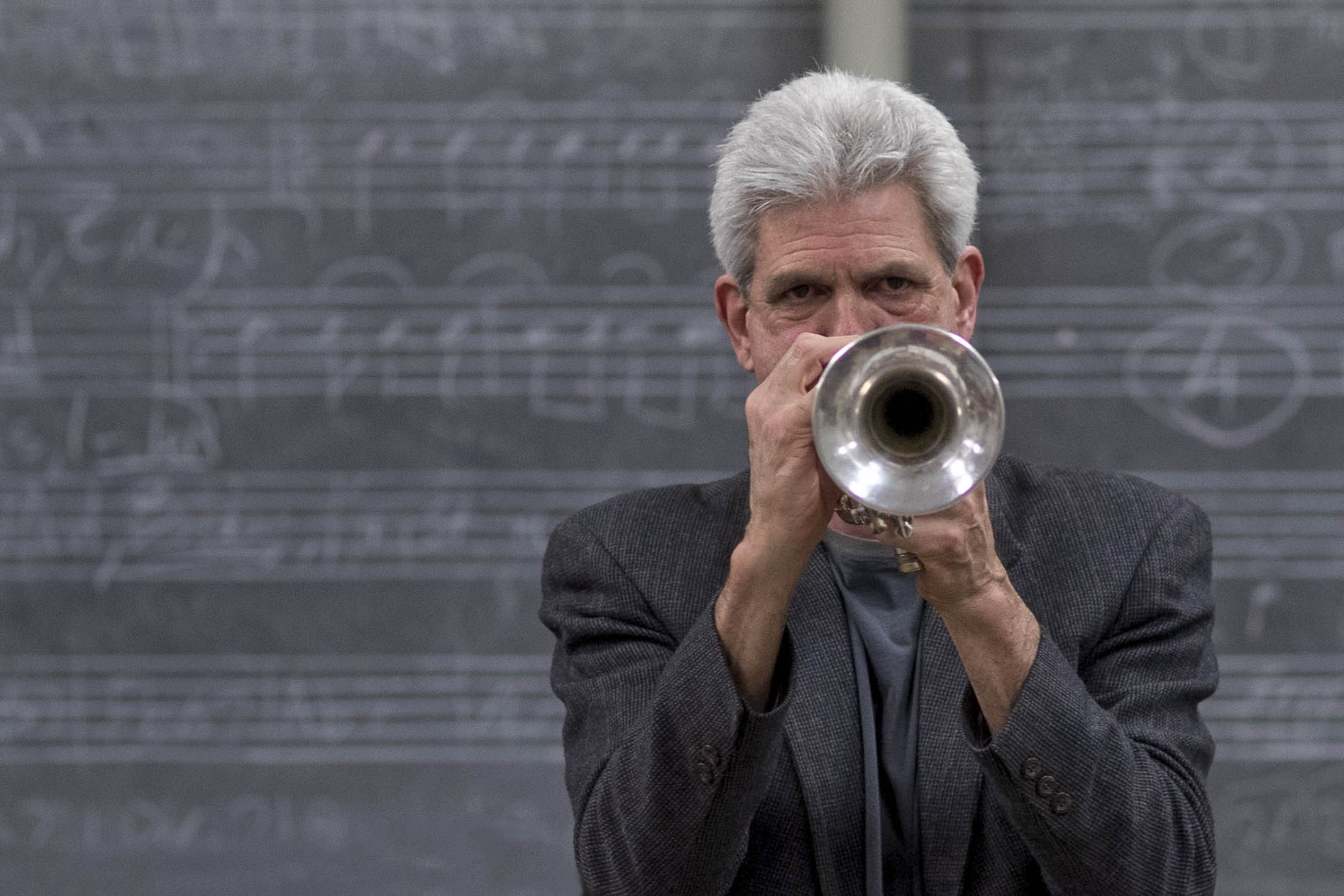 If you know anything about music in Charlottesville, you probably know John D'earth. The director of jazz performance at UVA and man-about-town trumpeter treated us to a live performance with his jazz group on Facebook Live, a real treat for those who can't come down to Miller's on Thursday nights to see him play.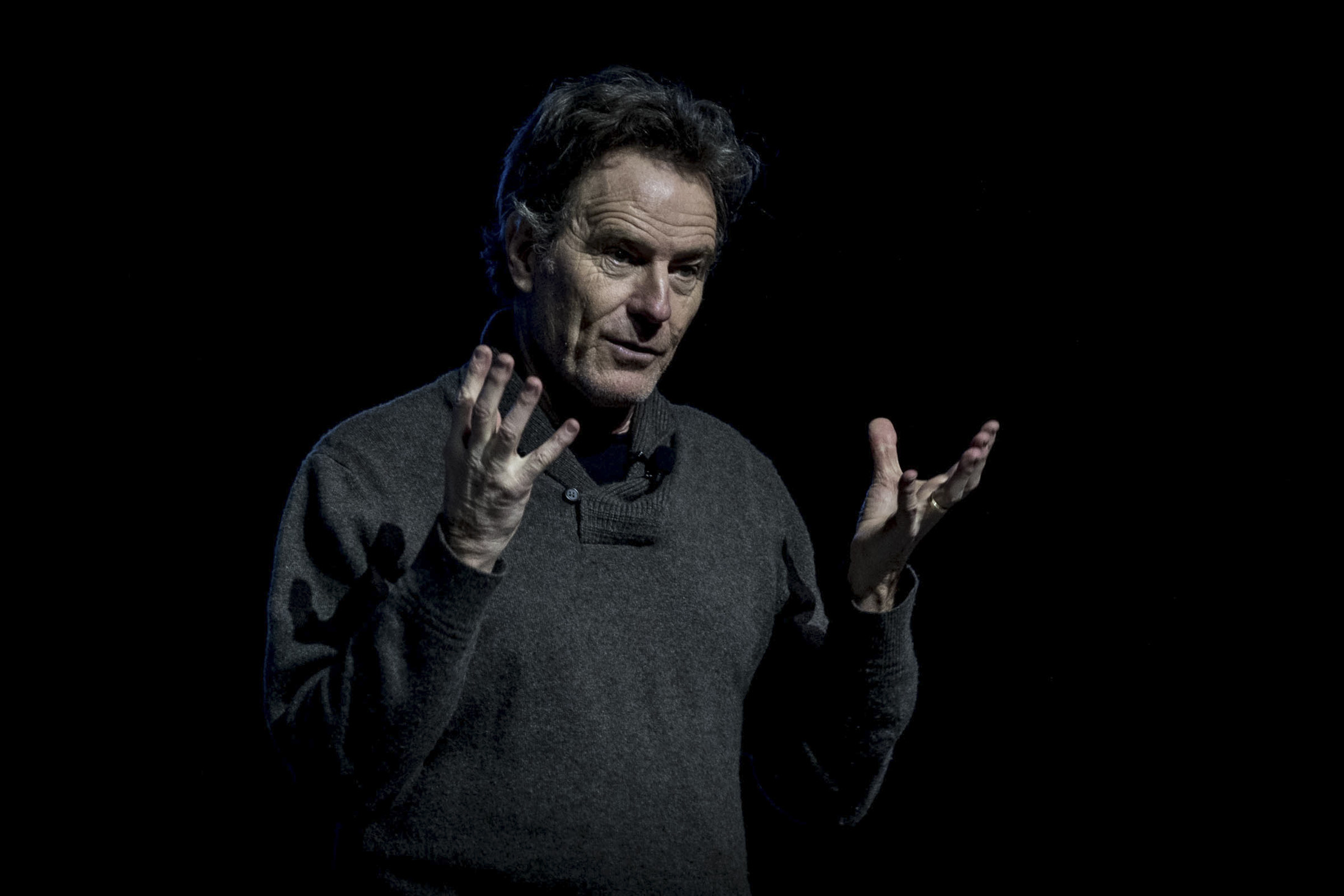 Actor and director Bryan Cranston was this year's President's Speaker for the Arts. While his talk was as engaging as one might expect, what really impressed me was that before it he specifically requested to meet with students in the drama department to answer their questions about pursuing a career in the entertainment business.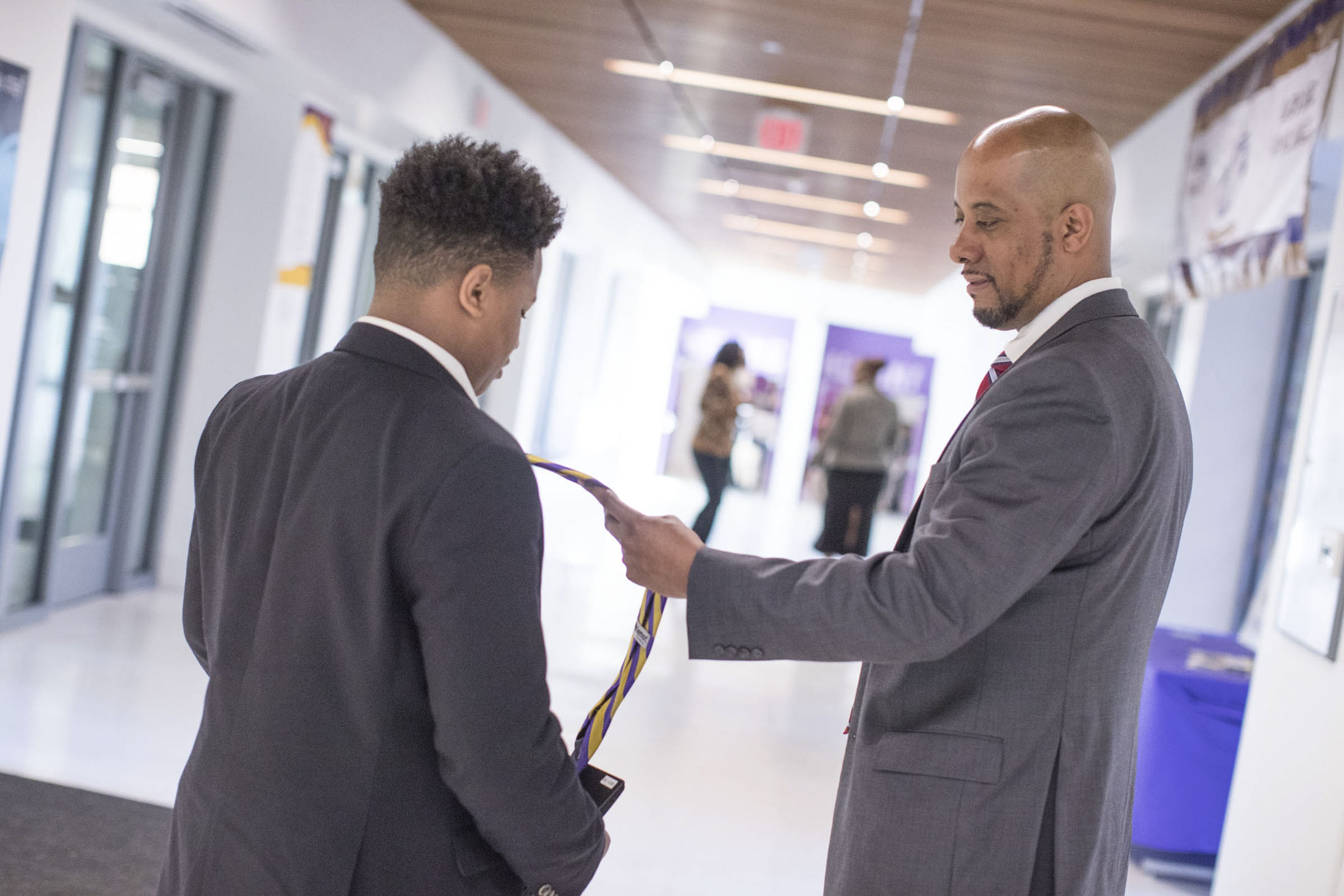 We went to Washington, D.C. to photograph and interview triple 'Hoo Ben Williams, who is now the principal of Ron Brown Preparatory High School. What we expected was to see his school and have him show us what makes it special. What we didn't expect was for him to welcome us into his office, where he would tell us his heart-wrenching personal story in great detail. After he steps back into the hall as Principal Williams, it's clear his very difficult life has led him to his calling today.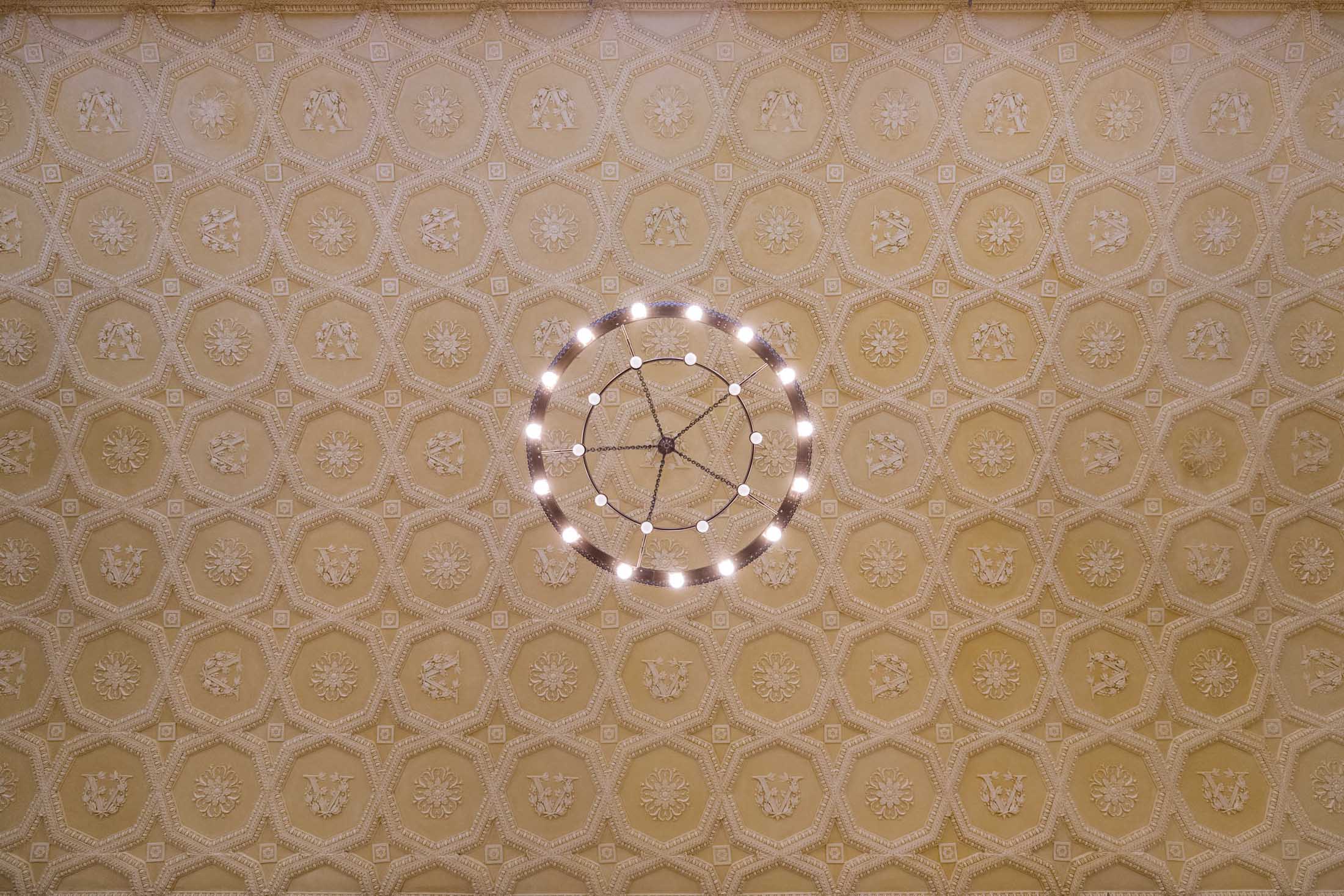 UVA is a school full of architectural treasures. Sometimes they're so subtle you don't notice them for years until one day during a talk at the Batten School you happen to look up … Those are great surprises.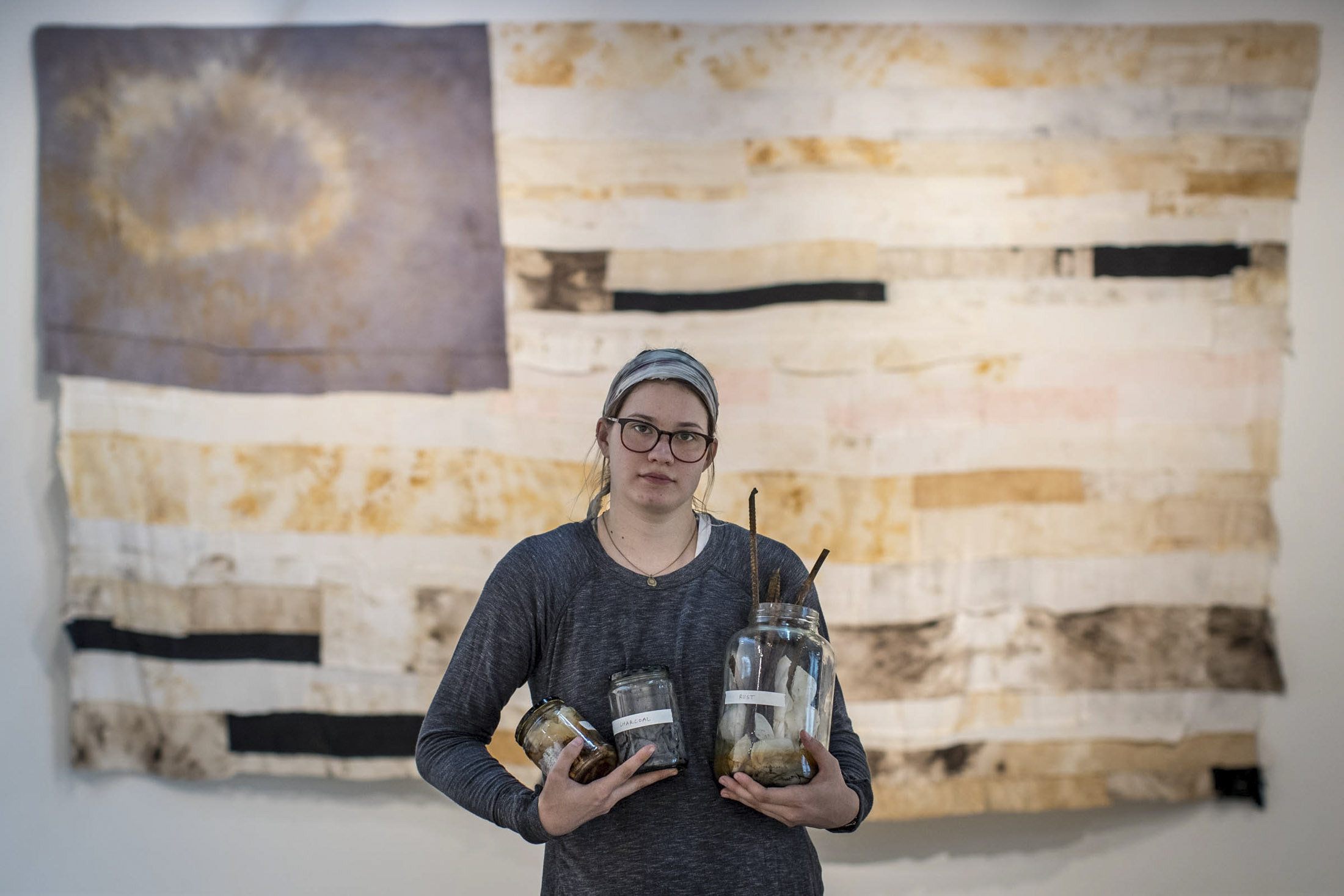 This year we profiled some graduating studio art students. One work in particular that blew me away was Alex Chriscoe's piece, "Wastelands." This piece used a cloth that was dyed with waste materials like rust, tar, cigarette butts and other things to create a patchwork flag. This piece was a bold and powerful statement on our treatment of the environment.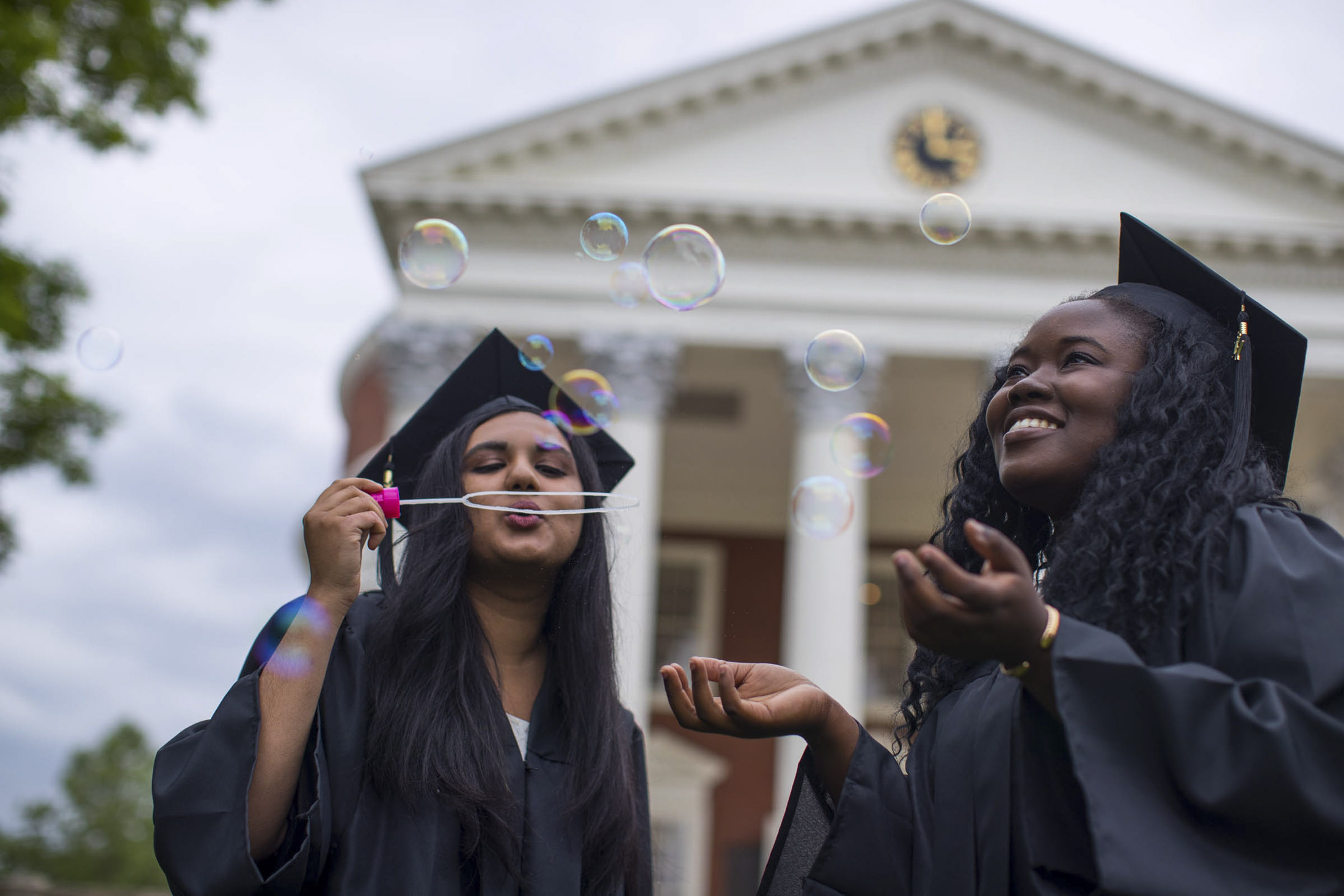 As we approach Final Exercises, one can look out on the Lawn at any time and see students doing a photo op in their cap and gown. These two Class of 2017 graduates were having a bit of fun with some bubbles as they posed.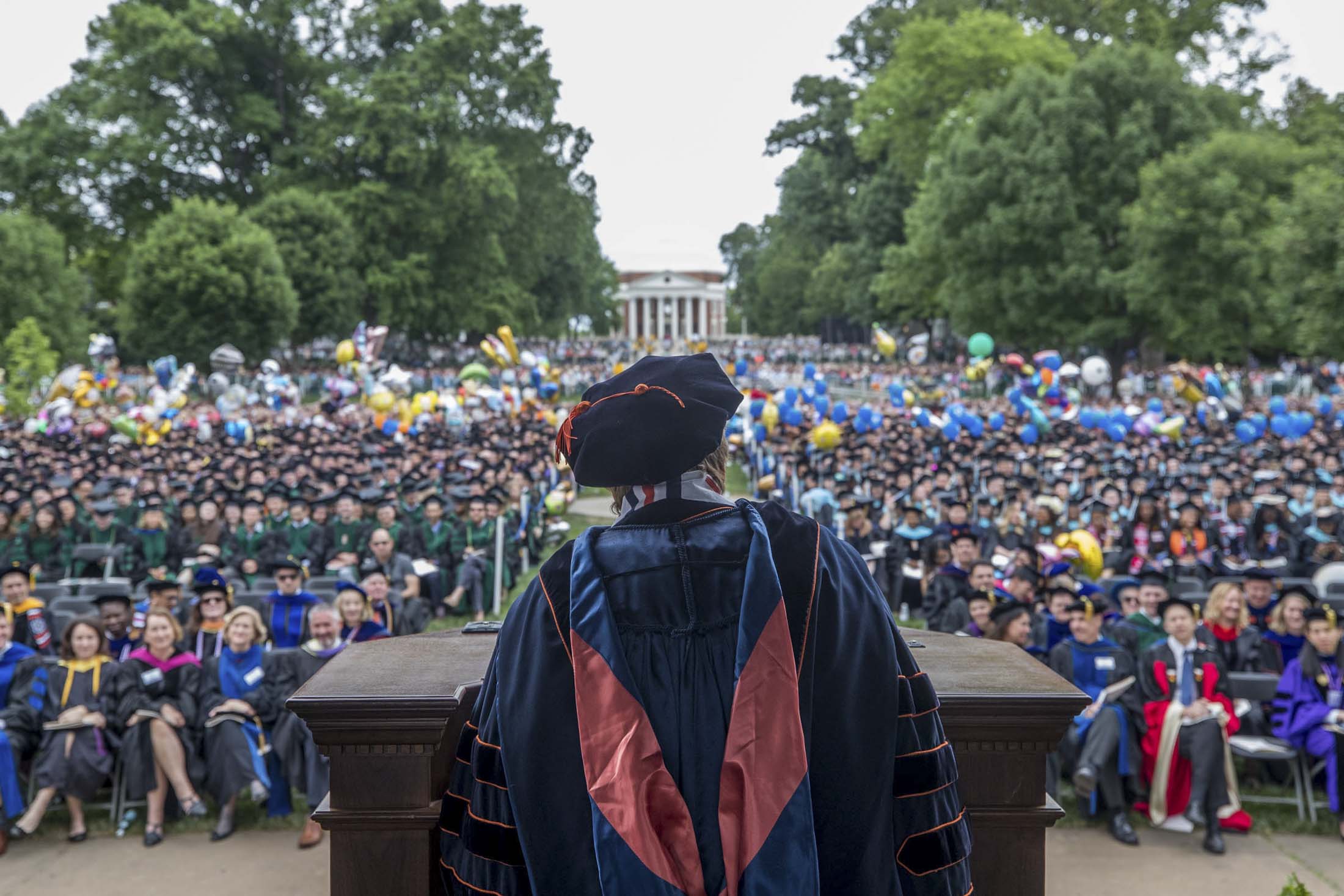 This year at Final Exercises, knowing that it might be President Teresa A. Sullivan's last one, I wanted to take a different photo than I had in years past. Traditionally photographers are forbidden from the platform – and even the windows of Old Cabell – during the ceremony. This year, I decided to take a bit of a risk to get a shot from President Sullivan's viewpoint as she addressed the new graduates.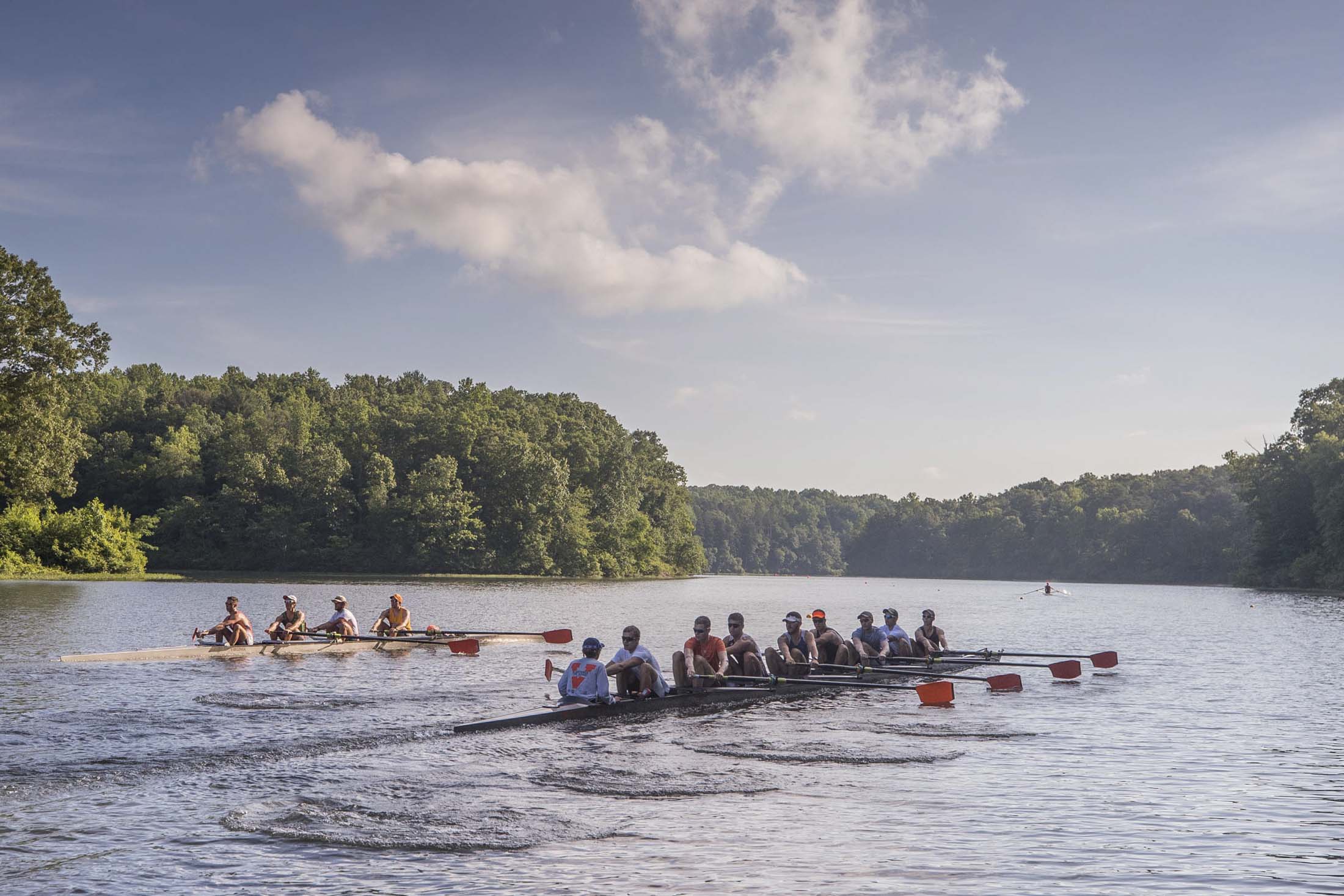 I haven't found a more peaceful place on or near Grounds than the Rivanna Reservoir just after sunrise. This year, I was lucky enough to go out a few times with the men's club rowing team and watch them practice. See some images from the club team's 50-year history.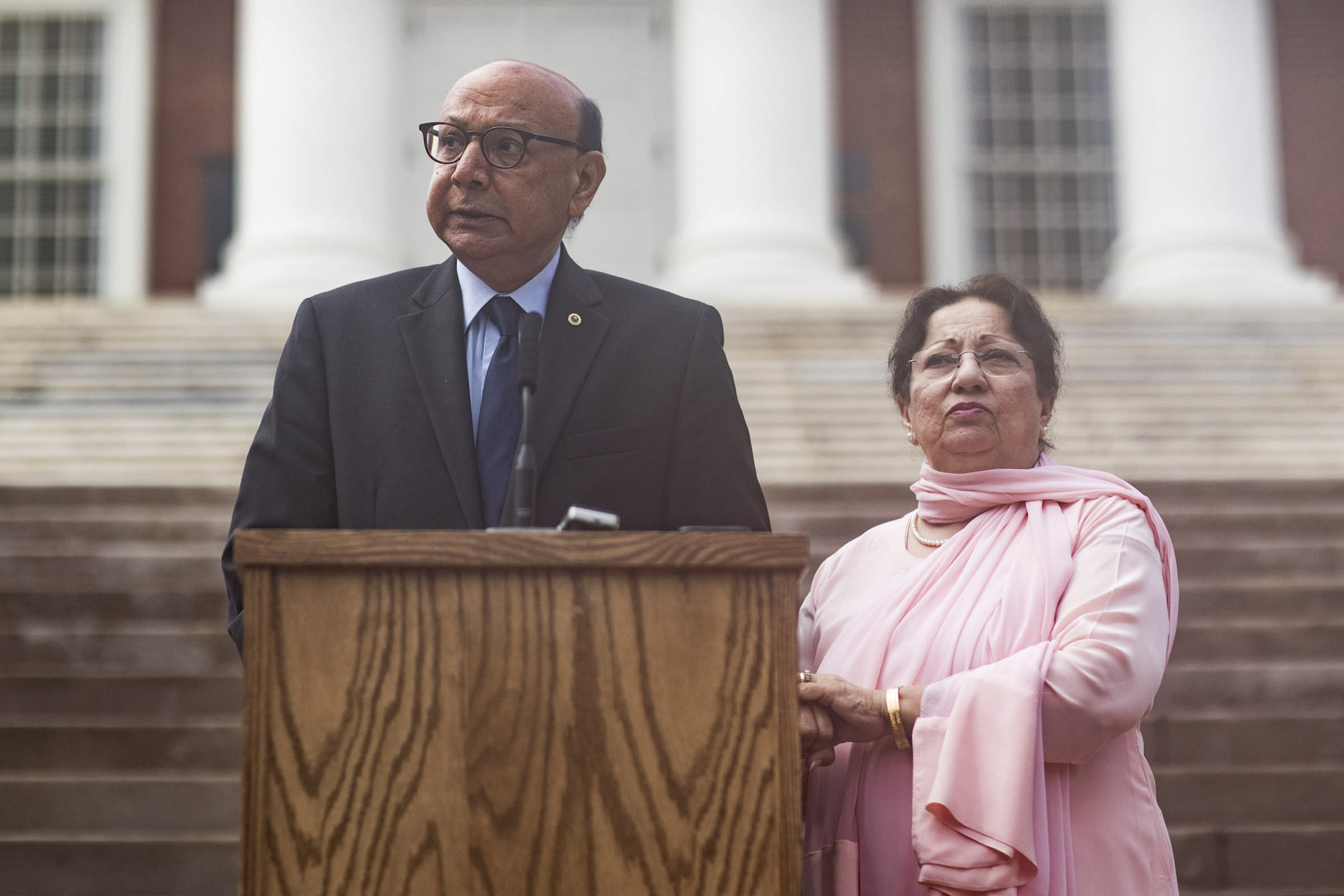 Khizr and Ghazala Khan were a strong and supportive force on Grounds even before they gained fame after speaking at the 2016 Democratic National Convention. Gold Star parents of U.S. Army Capt. Humayun Khan, the only UVA alumnus to be killed in the Iraq War, they returned to Grounds again to announce a scholarship in their son's name. Their wisdom and grace when dealing with a tremendous personal loss has been inspirational to me and an example of what it means to be a citizen. I think this photo really captures their personalities.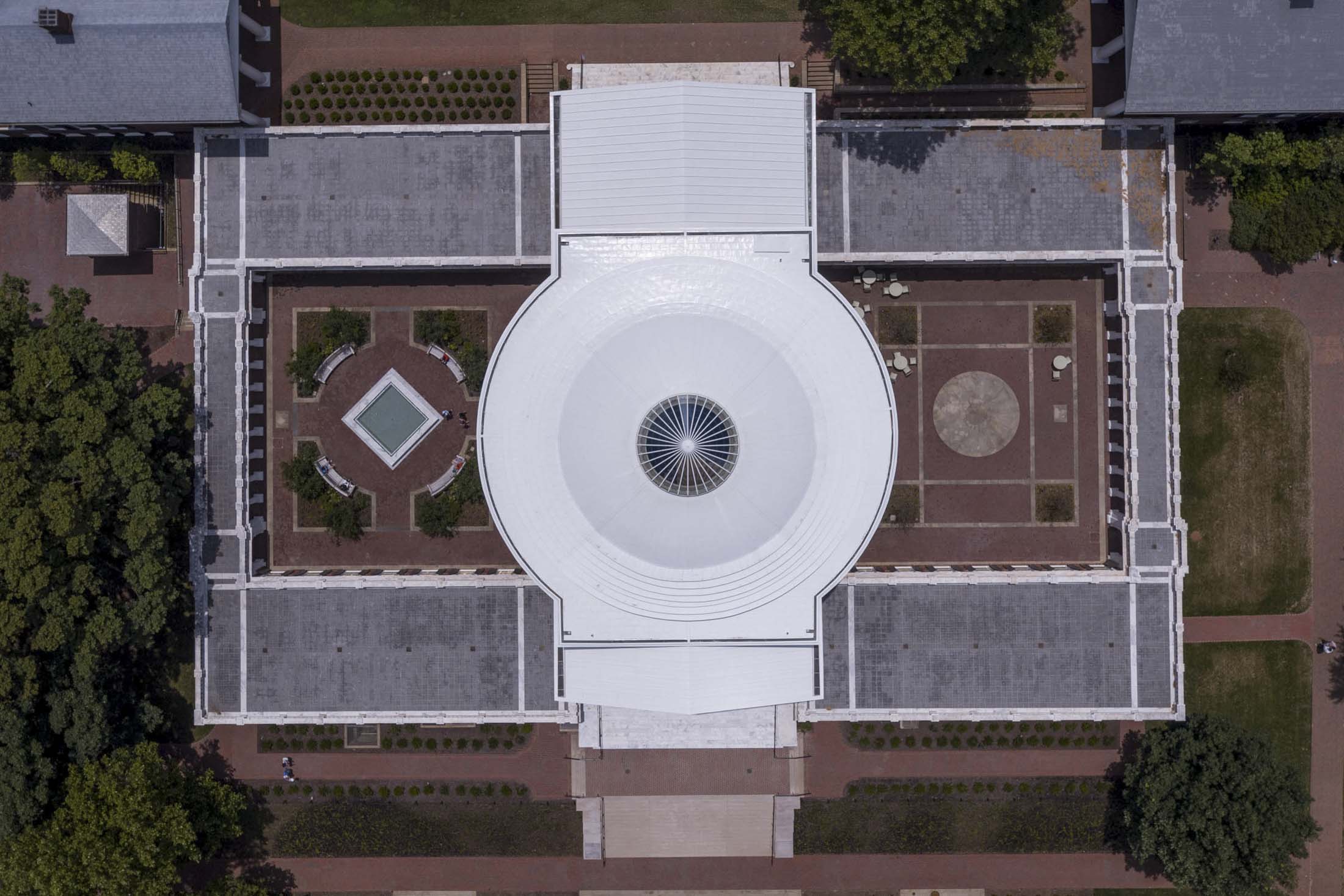 Using a drone, I was able to get this viewpoint of the Rotunda that is different from what we normally see.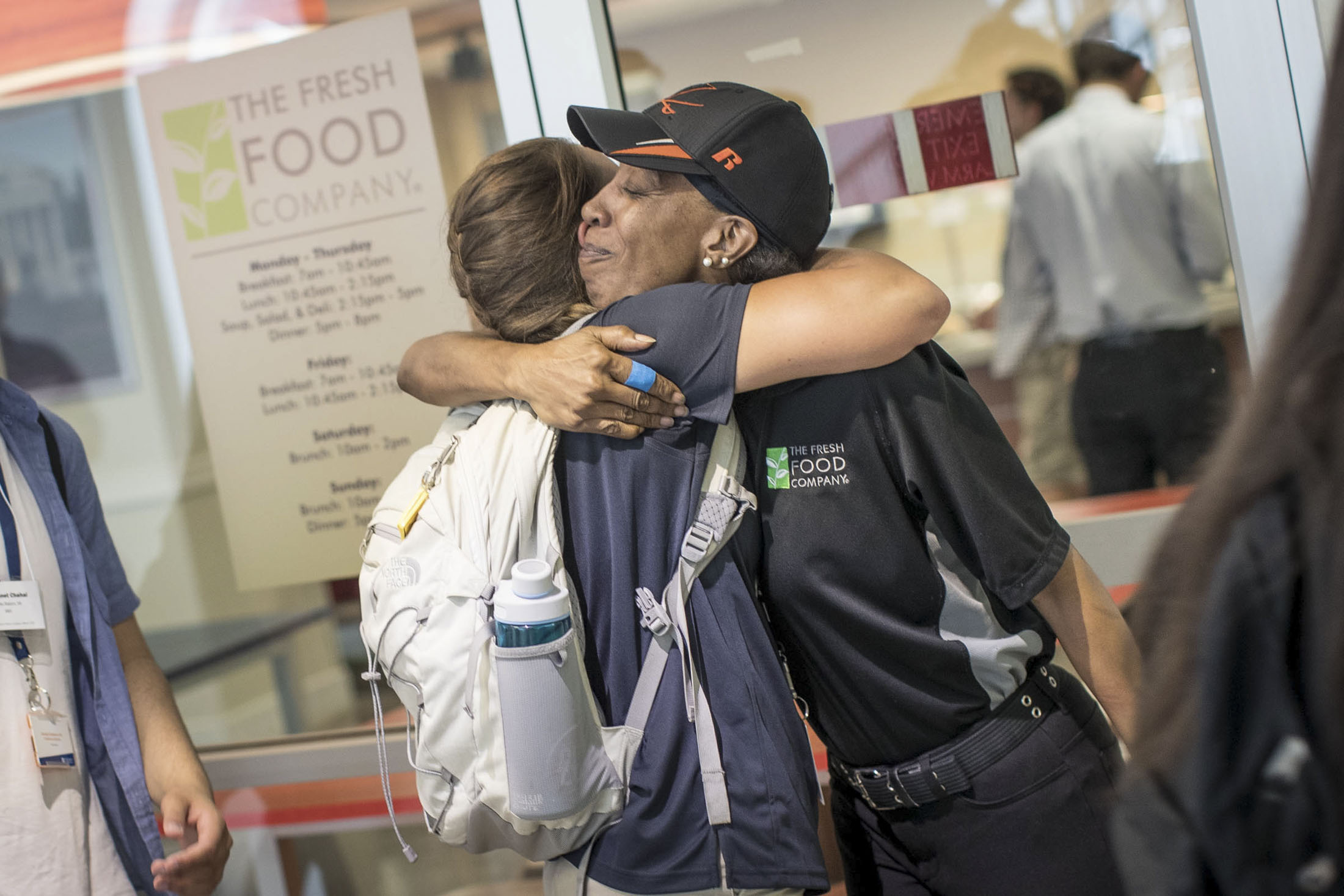 Everyone knows Ms. Kathy, and everyone knows they can get a hug from her when they need it. While following around a first-year orientation group for a story, I realized these incoming students already knew about her. Word travels fast on UVA traditions.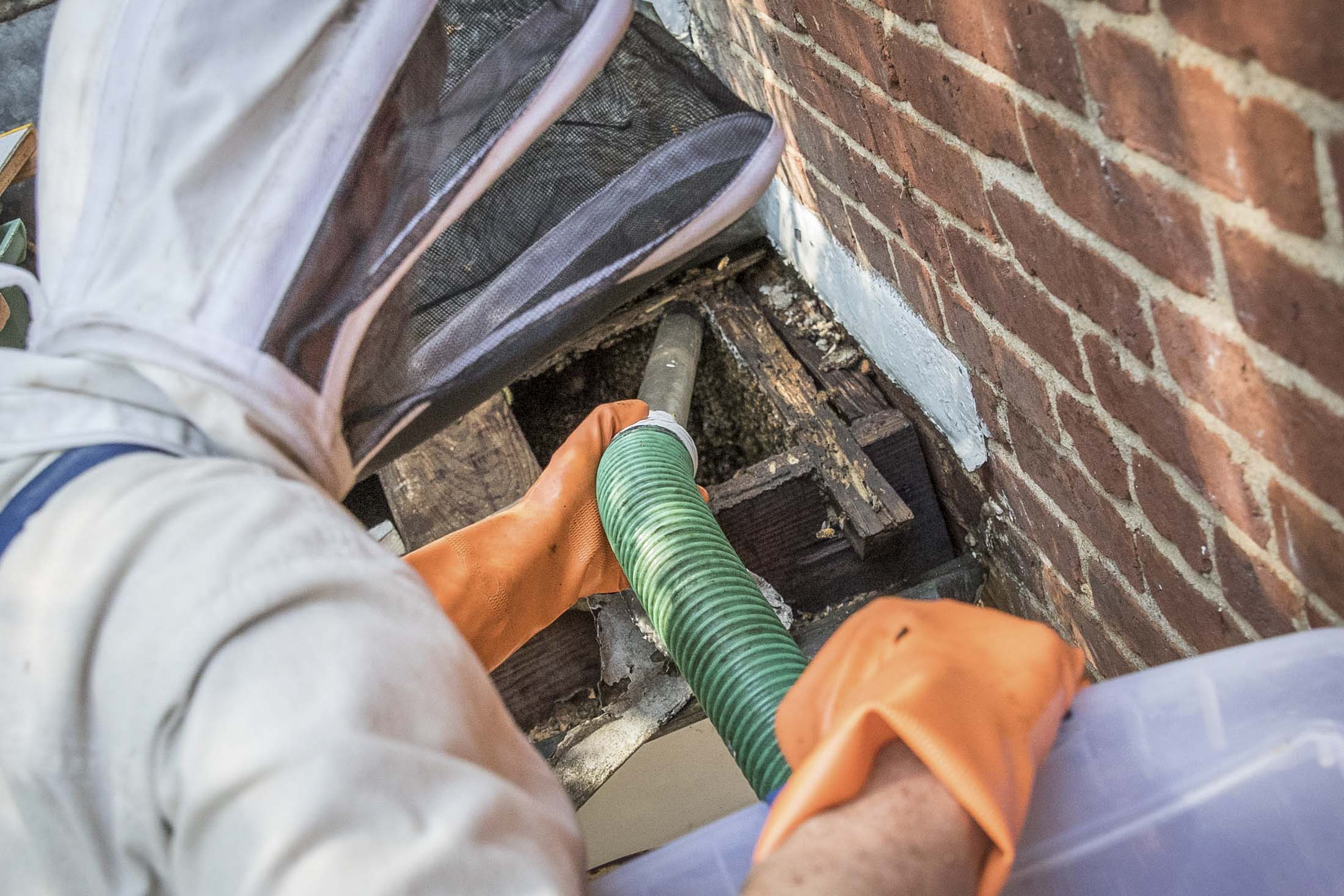 Go up on a lift to poke at a hive of 30,000 bees, they said. It'll be fun, they said.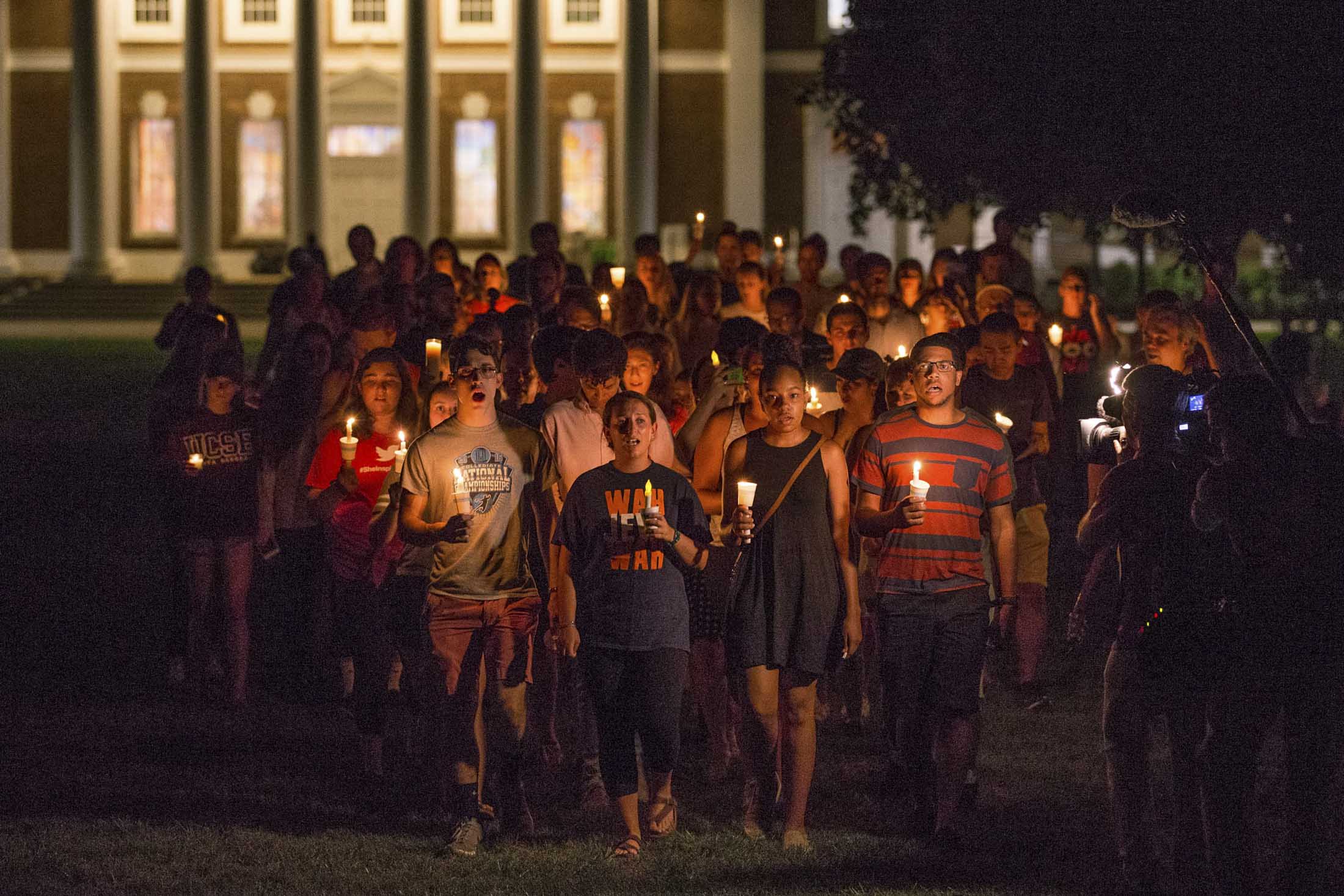 On Aug. 11, I was standing in this same spot photographing white supremacists marching up the Lawn with lit torches. In the hours and days that followed, I watched scenes unfold in front of my lens I never wish to have repeated. Five days later I stood in the same spot watching students with candles take back the Lawn. Healing for everyone will take a while, but this was an important step.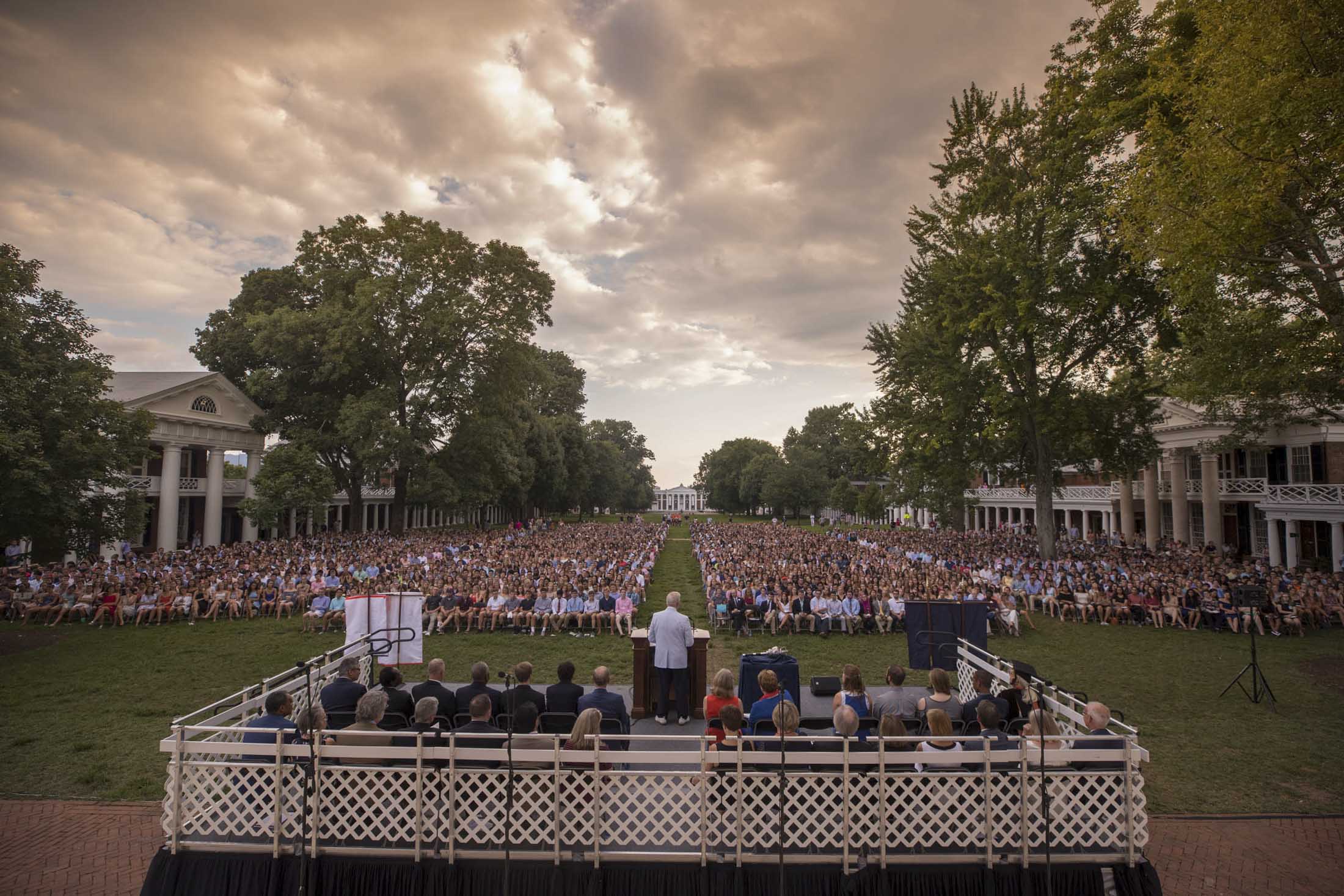 The opposite bookend of Final Exercises, Opening Convocation is one of my favorite times of year. It gives you a chance to see all these new students dressed up and walking up the Lawn to take their spot. In this photo, Dean of Students Allen Groves addresses the new students on a beautiful late-summer day.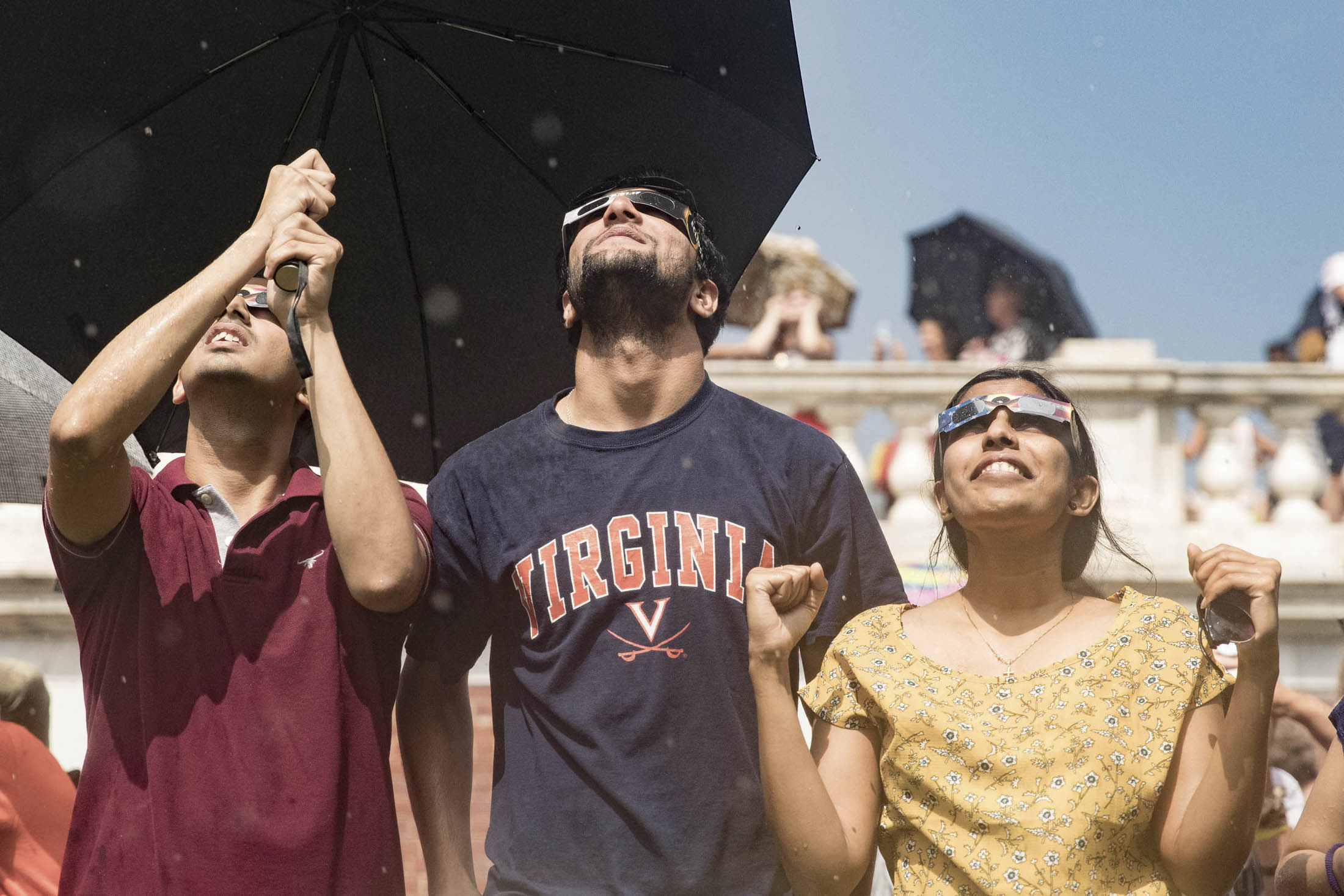 The partial solar eclipse on Aug. 21 threatened to be a rainout, but for a brief moment the clouds parted and, with rain still falling, a crowd on the Lawn got a brief glimpse.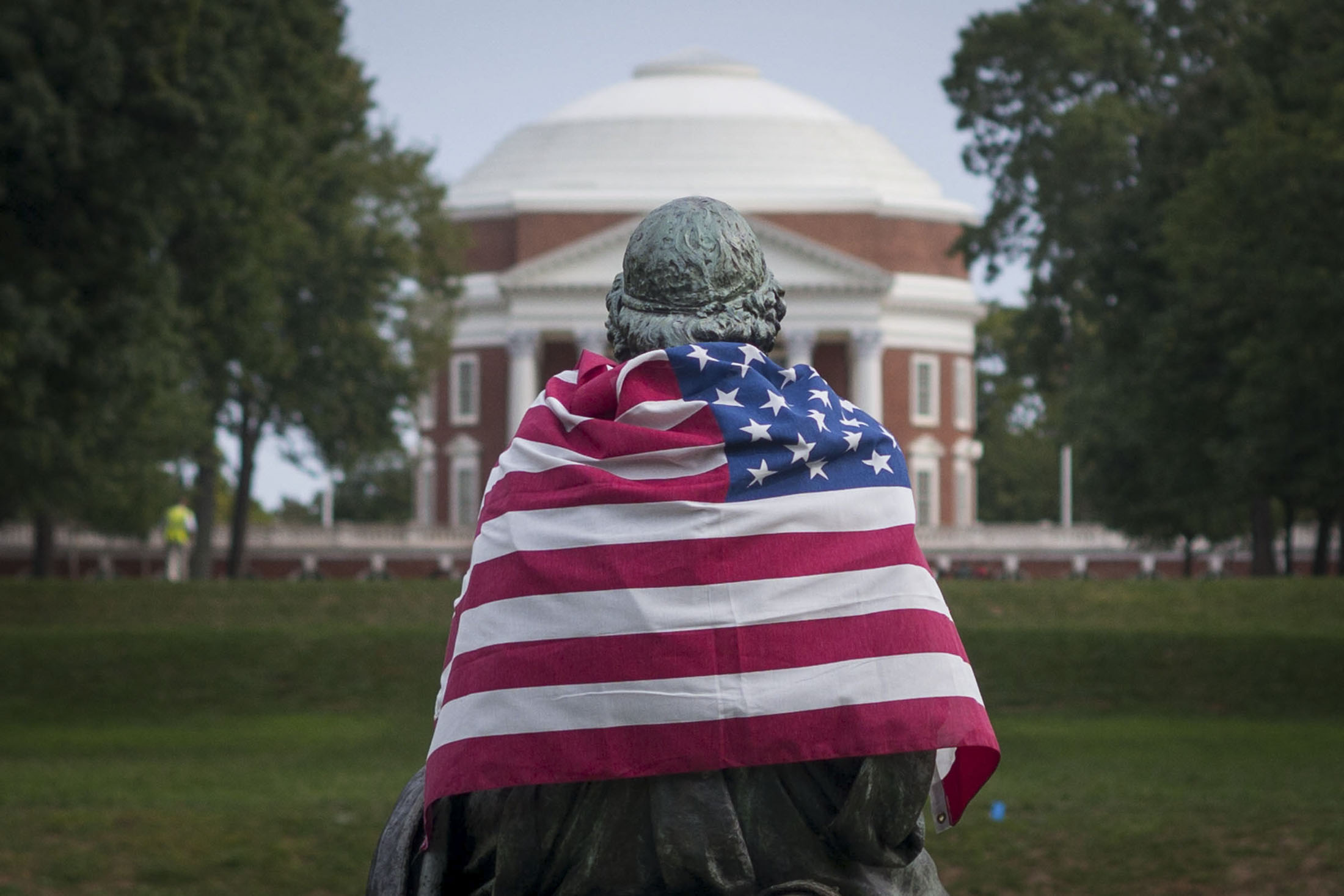 On the morning of Sept. 11, I walked down the Lawn and spotted a flag draped over Homer. It was a simple but touching tribute.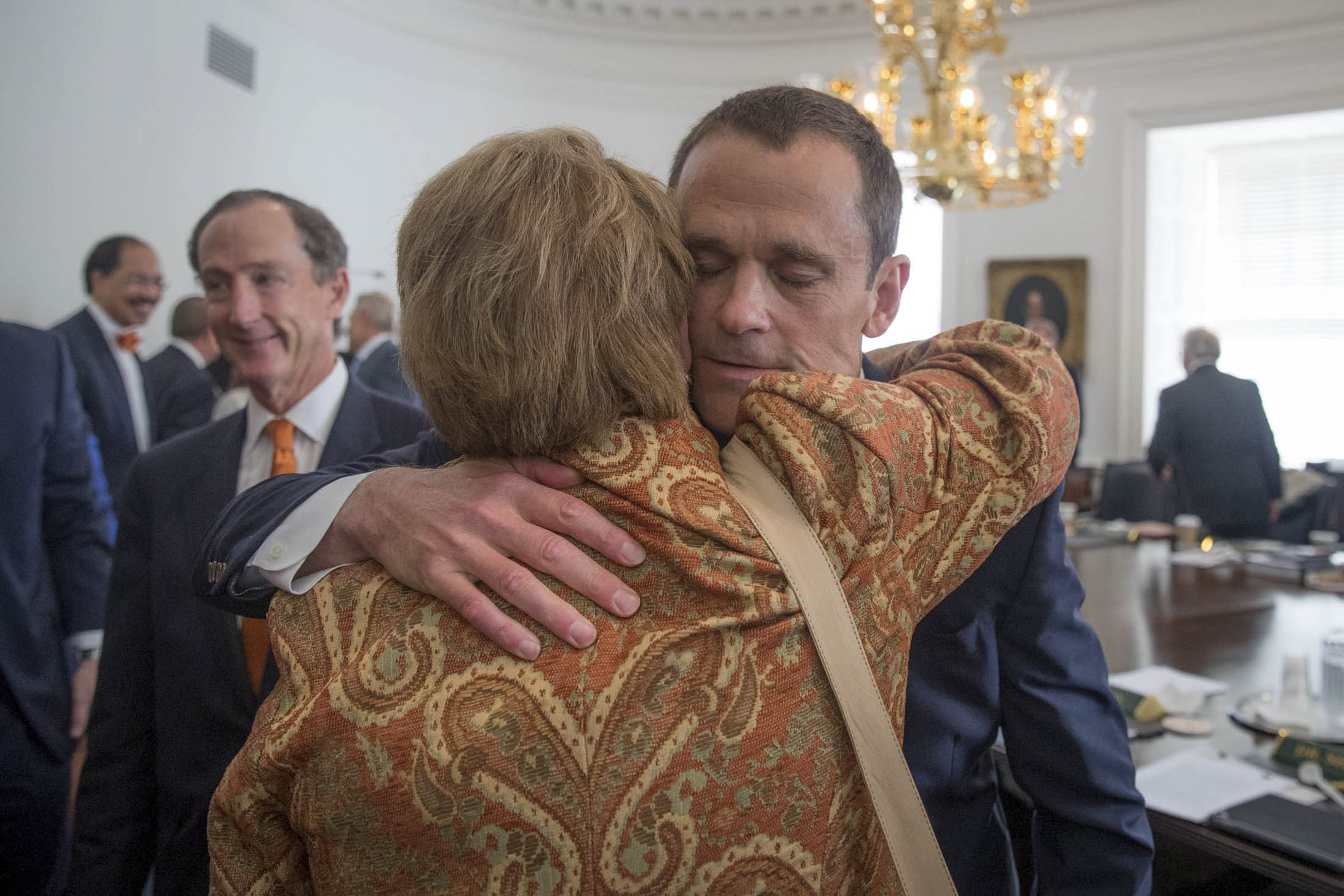 This photo was taken in the Board of Visitors meeting room moments after James Ryan was confirmed to become the ninth president of UVA. After the vote was read aloud, President-elect Ryan turned to President Teresa A. Sullivan and hugged her before walking out the door to address a large crowd that had gathered to hear him speak.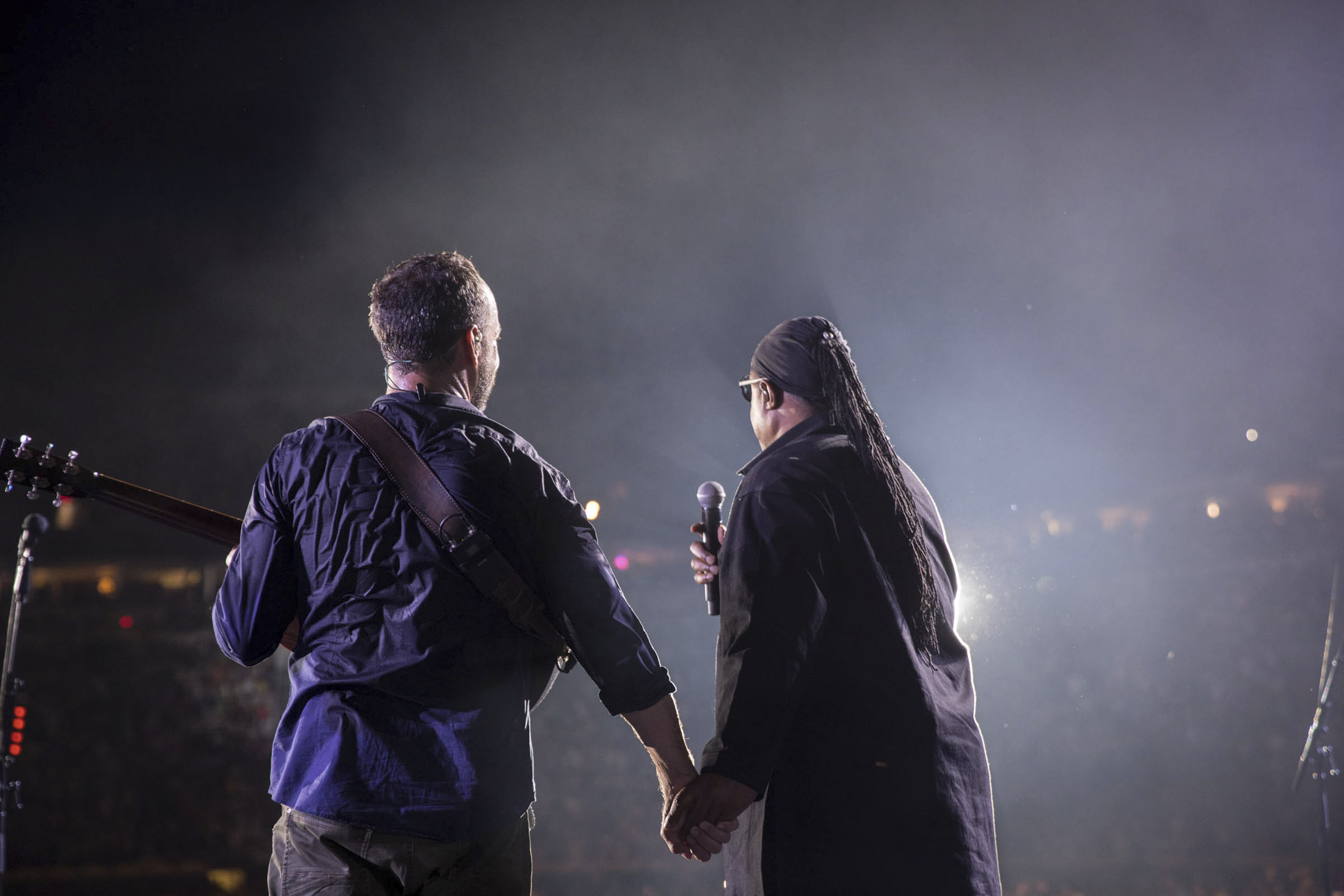 At the end of the Concert for Charlottesville, the Dave Matthews Band had one more surprise up its sleeve. Dave welcomed Stevie Wonder, who addressed the crowd and then led DMB through his hit, "Superstition." My role that night wasn't as a photographer; instead, I was working as the on-stage video camera operator for the show. But I had my camera on my hip just in case a special moment arose. This was it.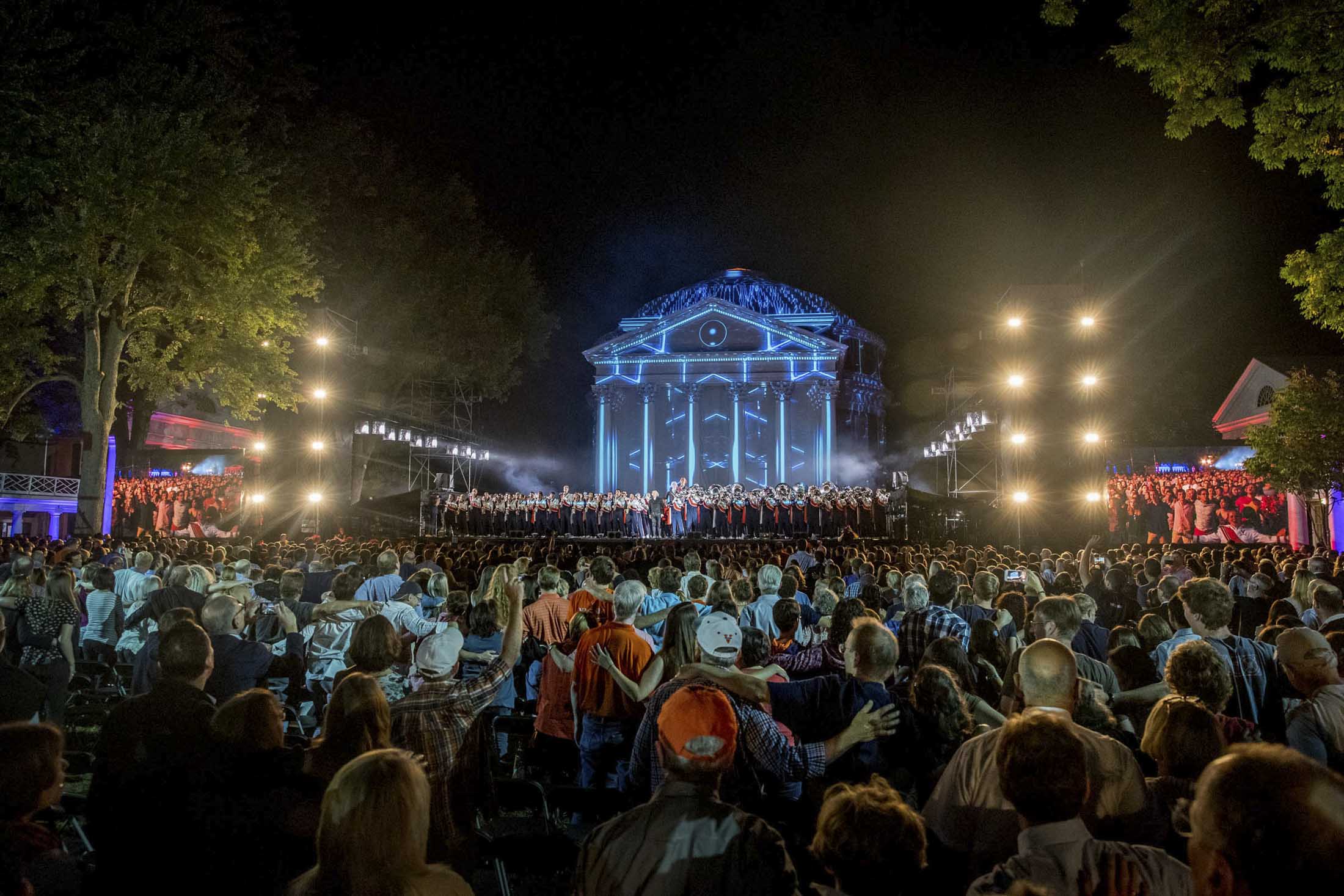 The University's Bicentennial is a huge undertaking, and the Bicentennial Celebration Event in October was a real show piece. I took this photo as the show ended.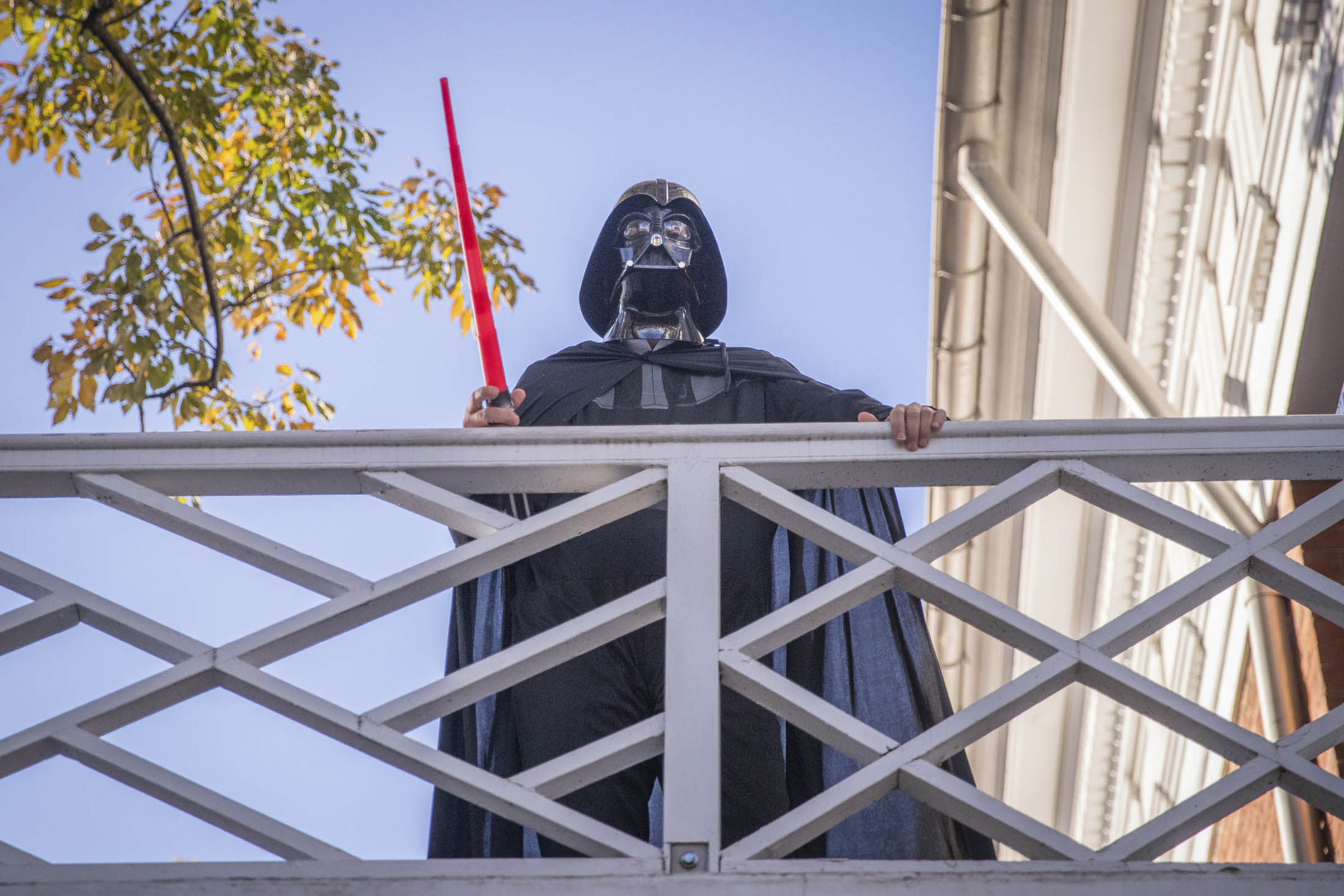 Trick-or-Treating on the Lawn is one of my favorite events of the year. This year I happened to look up and spot Lord Vader looking down from atop the colonnades.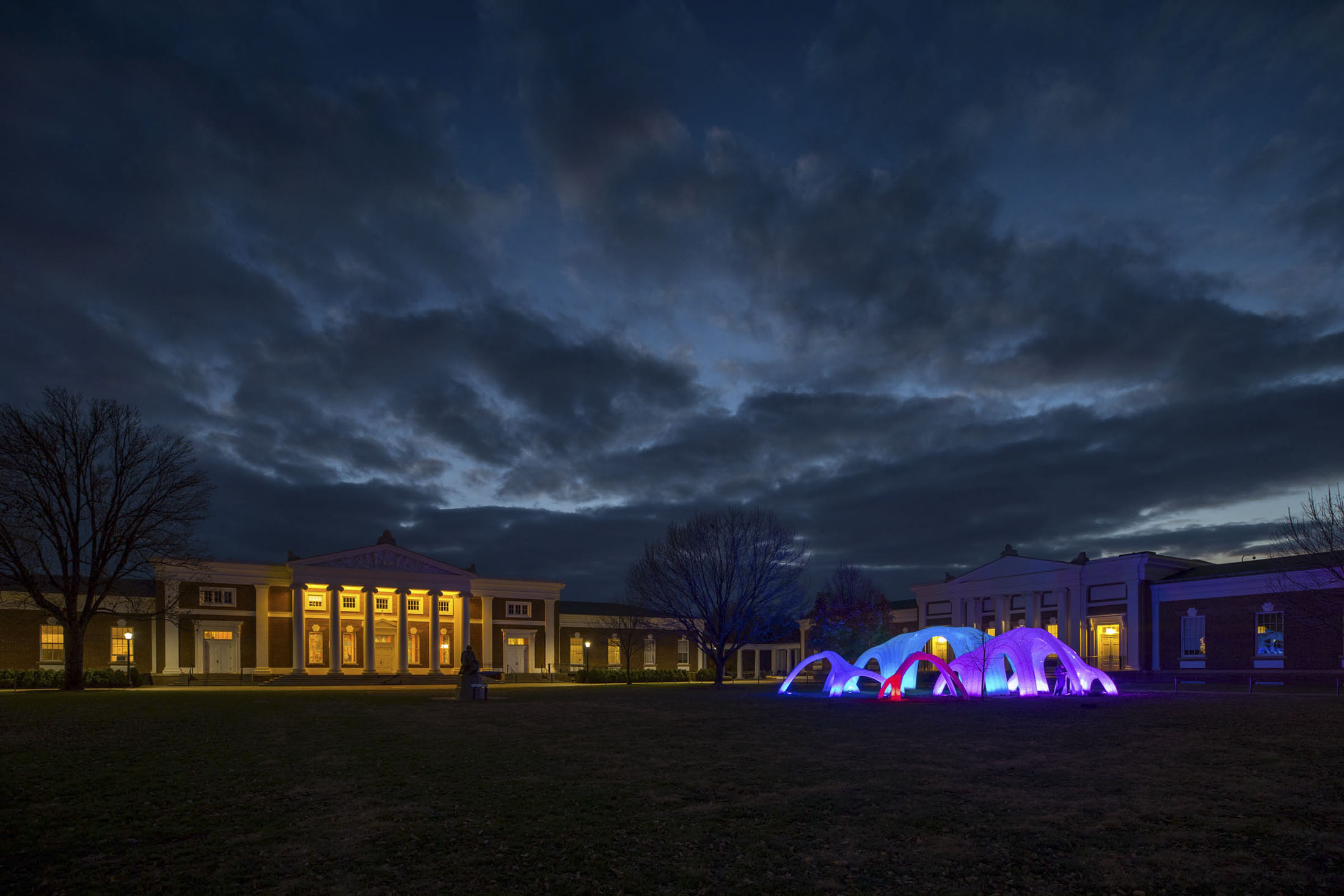 The School of Architecture created this piece, "Lumina," to commemorate the Bicentennial. It created a wonderful three-dimensional splash of color as the leaves faded off the trees and winter set in.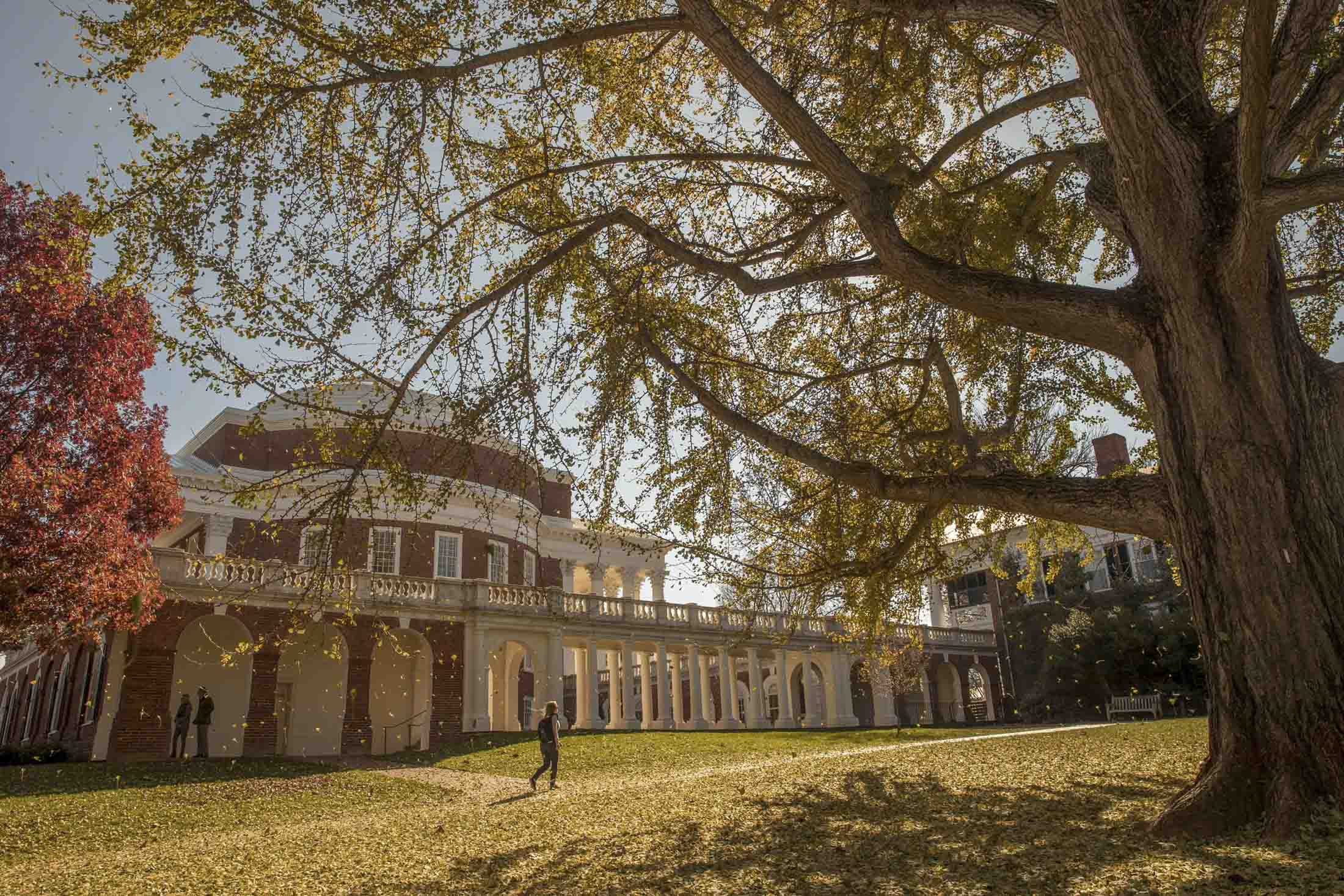 The Pratt ginkgo had an underwhelming year this year in terms of color, but when the leaves fell it was a beautiful rain of yellow leaves on Grounds.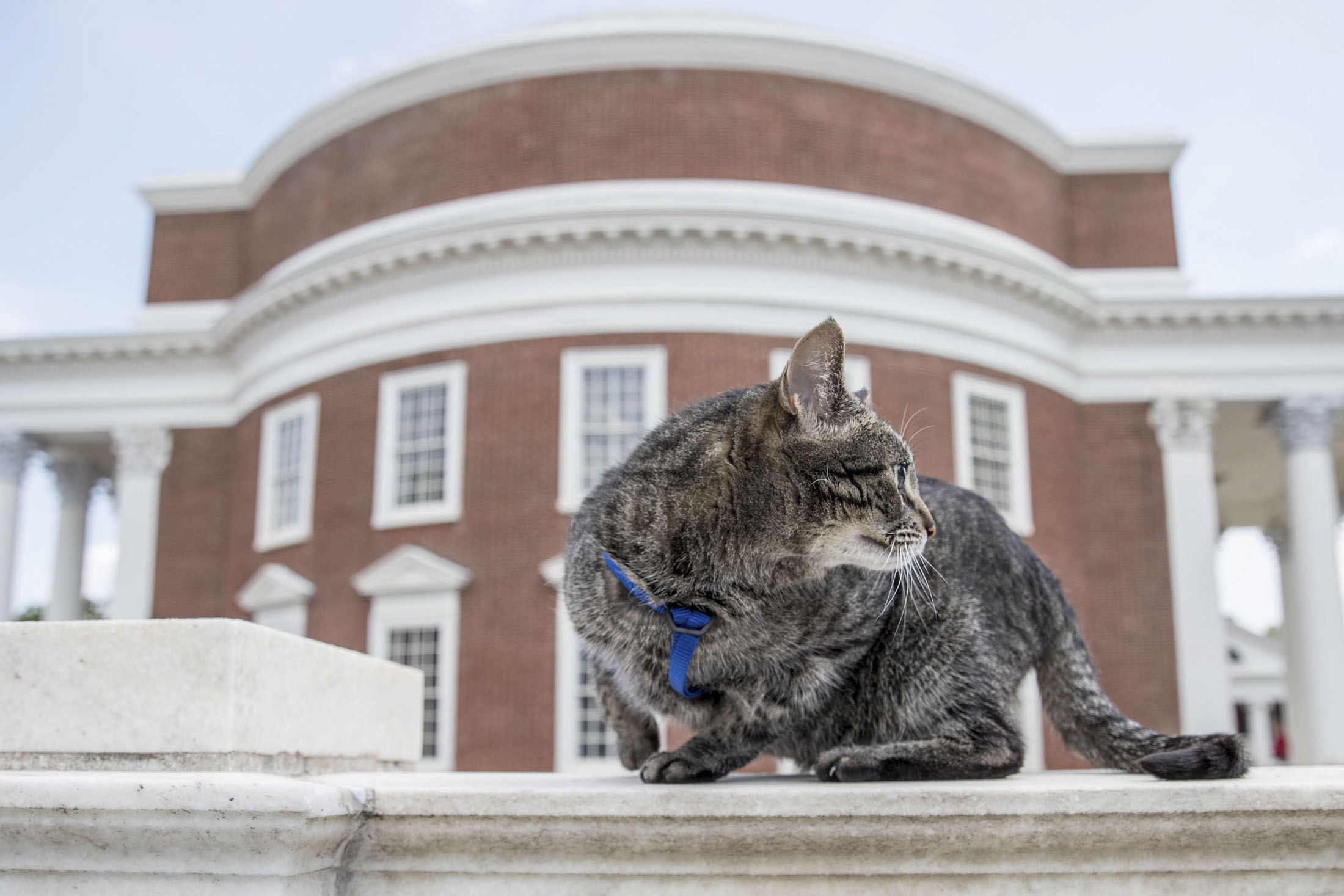 We needed pictures of pets on Grounds for a social media campaign, so I dragged my cat to the Rotunda. She was not impressed.
Article Information
December 14, 2017
/content/take-look-back-some-2017s-most-powerful-uva-images