The University of Virginia has long provided a stage for the arts, and 2017 brought a full list of blockbusters.
There was October's epic Bicentennial Launch Celebration – one of the biggest arts showcases in all of UVA's 200 years – plus a star-studded Concert for Charlottesville, a special guest appearance by "Breaking Bad" star Bryan Cranston, the reliably high-wattage Virginia Film Festival, and much more besides.
Take a look back at some of the amazing work our students, faculty, alumni and guests produced last year.
Bicentennial Launch Celebration Kicked Off UVA's Third Century
UVA began its celebration of its 200th anniversary Oct. 6 with a spectacular show on the Lawn, featuring a virtual transformation of the iconic Rotunda and guest performances by stars like Leslie Odom Jr. and Andra Day.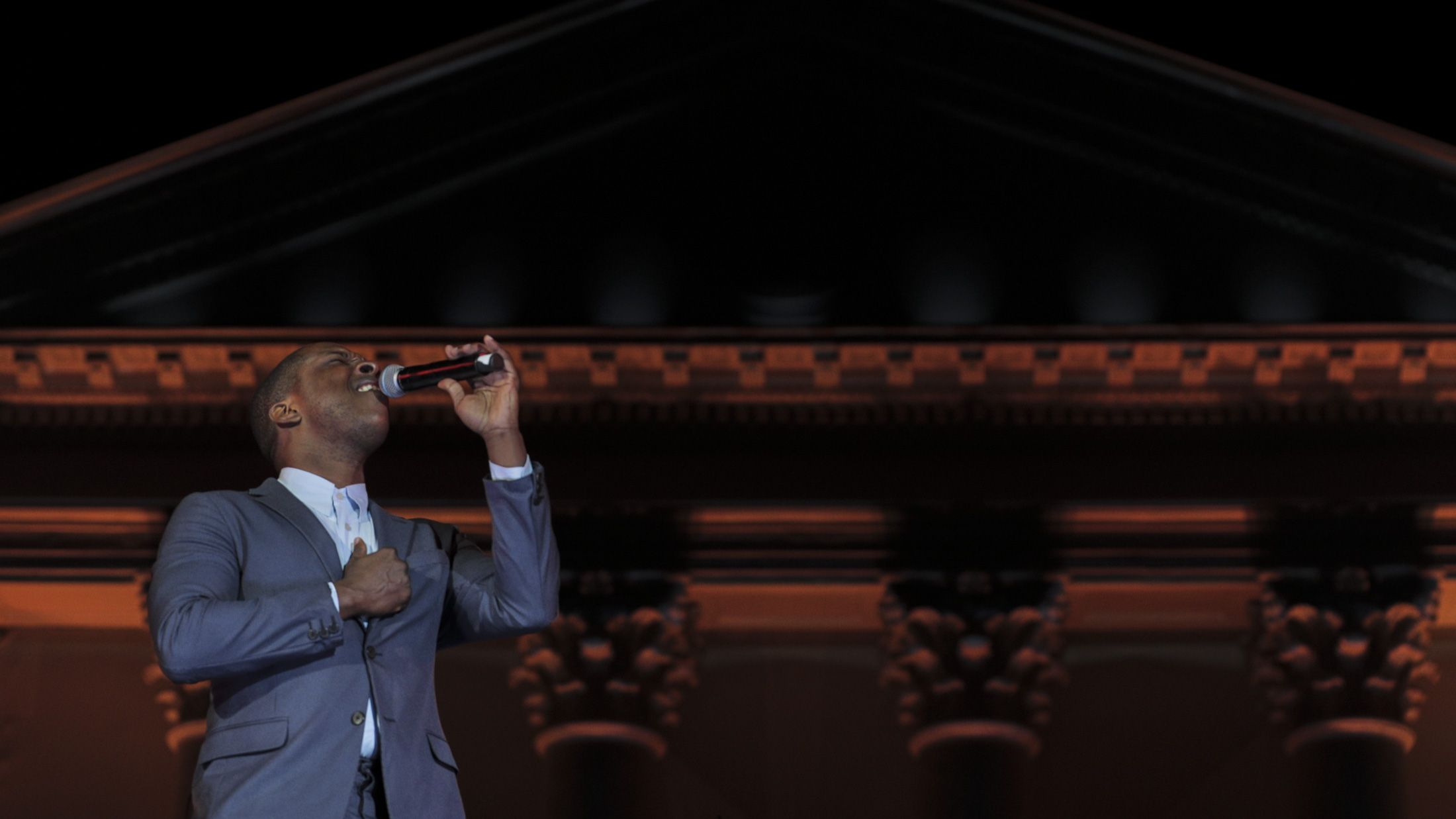 Approximately 20,000 'Hoos gathered to mark the occasion and welcome UVA's third century, closing, of course, with a resounding rendition of the Good Ol' Song.  
Read: UVA Ushers in its Third Century with Historic Celebration
The Concert for Charlottesville Brought Hope, Unity
Just a few weeks before the Bicentennial Launch Celebration, UVA and the Charlottesville community welcomed a megawatt lineup of musical stars for "A Concert for Charlottesville." The hometown favorite Dave Matthews Band hosted the free concert on Sept. 24 to uplift the Charlottesville community after the tragic events of August's violent Unite the Right rally, which left three dead.
The concert included Pharrell Williams, Chris Stapleton, Justin Timberlake, Ariana Grande, Brittany Howard, The Roots, Cage the Elephant and surprise guests Coldplay and Stevie Wonder. It benefitted a Charlottesville Area Community Foundation fund for victims of the violent white supremacist demonstrations, first responders, and organizations dedicated to promoting equality and tolerance.
Read: Hit Songs and Surprise Guests Thrill Crowd in Powerful Concert for Charlottesville.
Bryan Cranston Brought Down the House
UVA didn't welcome only musical superstars in 2017; acclaimed actor Bryan Cranston also made an appearance on Grounds in March as the President's Speaker for the Arts.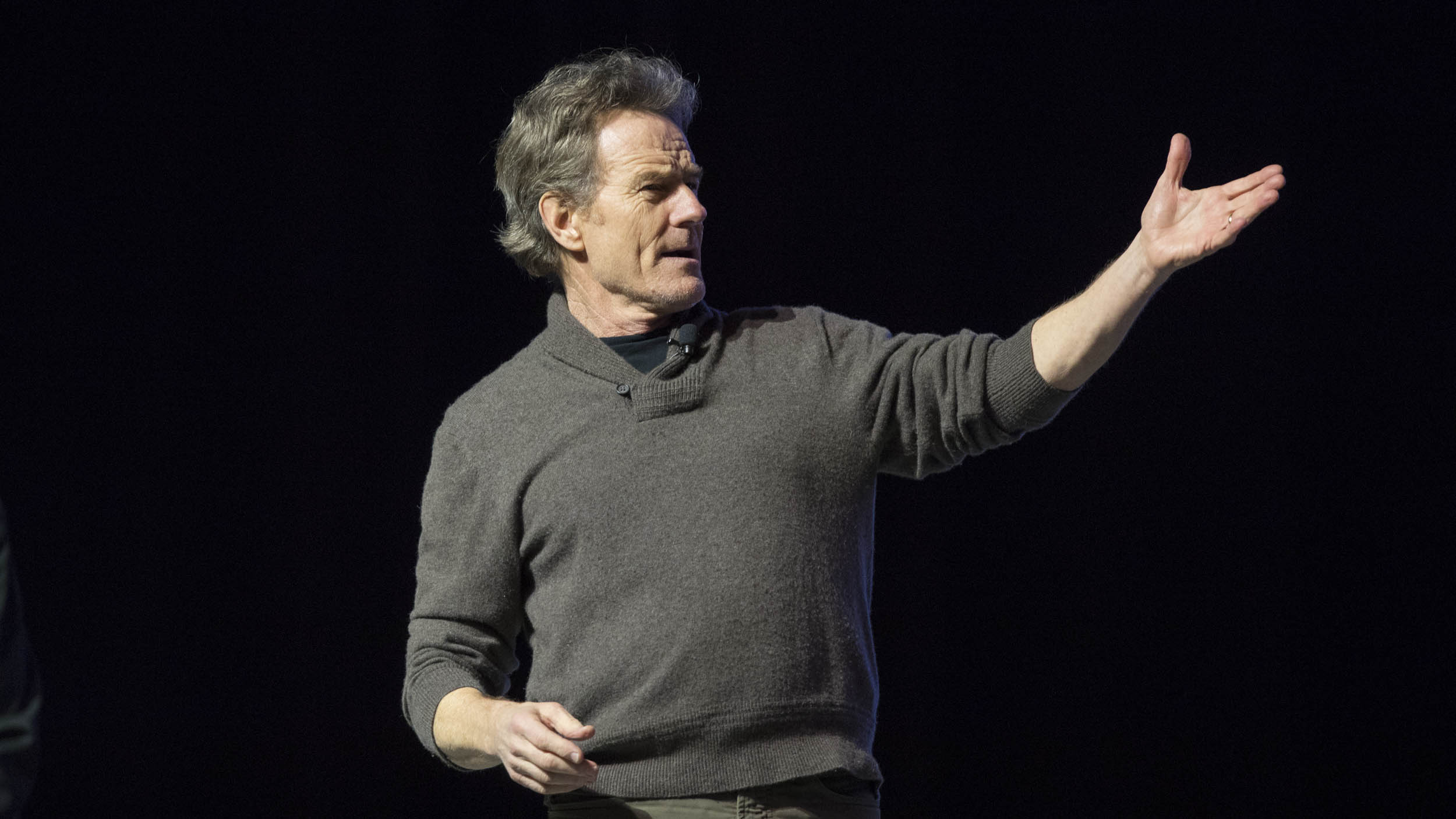 Cranston, best known for his starring role in the hit television series "Breaking Bad," joined UVA alumnus and "Breaking Bad" producer Mark Johnson (more on him later) in front of a packed house at the John Paul Jones Arena.
Read: Breaking Bad Star Brings Down the House at UVA
'Les Misérables' Creators & Distinguished Writers Came to Grounds
UVA also hosted some very talented artists-in-residence this year, among them Alain Boublil and Claude-Michel Schönberg, creators of the classic musical "Les Misérables," and two writers, Pulitzer Prize-winning novelist Junot Díaz and National Book Award-winner Mark Doty.
Boublil and Schonberg, the partners behind "Les Mis" and "Miss Saigon," gave public talks, attended classes and worked directly with UVA students for a Feb. 23 performance of songs from their repertoire.
As Kapnick Distinguished Writers-in-Residence with UVA's Creative Writing program, Díaz, early in 2017, and Doty, who spent the fall semester on Grounds, also gave public talks and held master classes and office hours for students. Doty has published 12 collections of poetry and five books of nonfiction, including three memoirs.
UVA in 100 Objects Exhibition Showcased University History
The Albert and Shirley Small Special Collections Library created a new exhibition of fascinating objects from the University's 200-year history.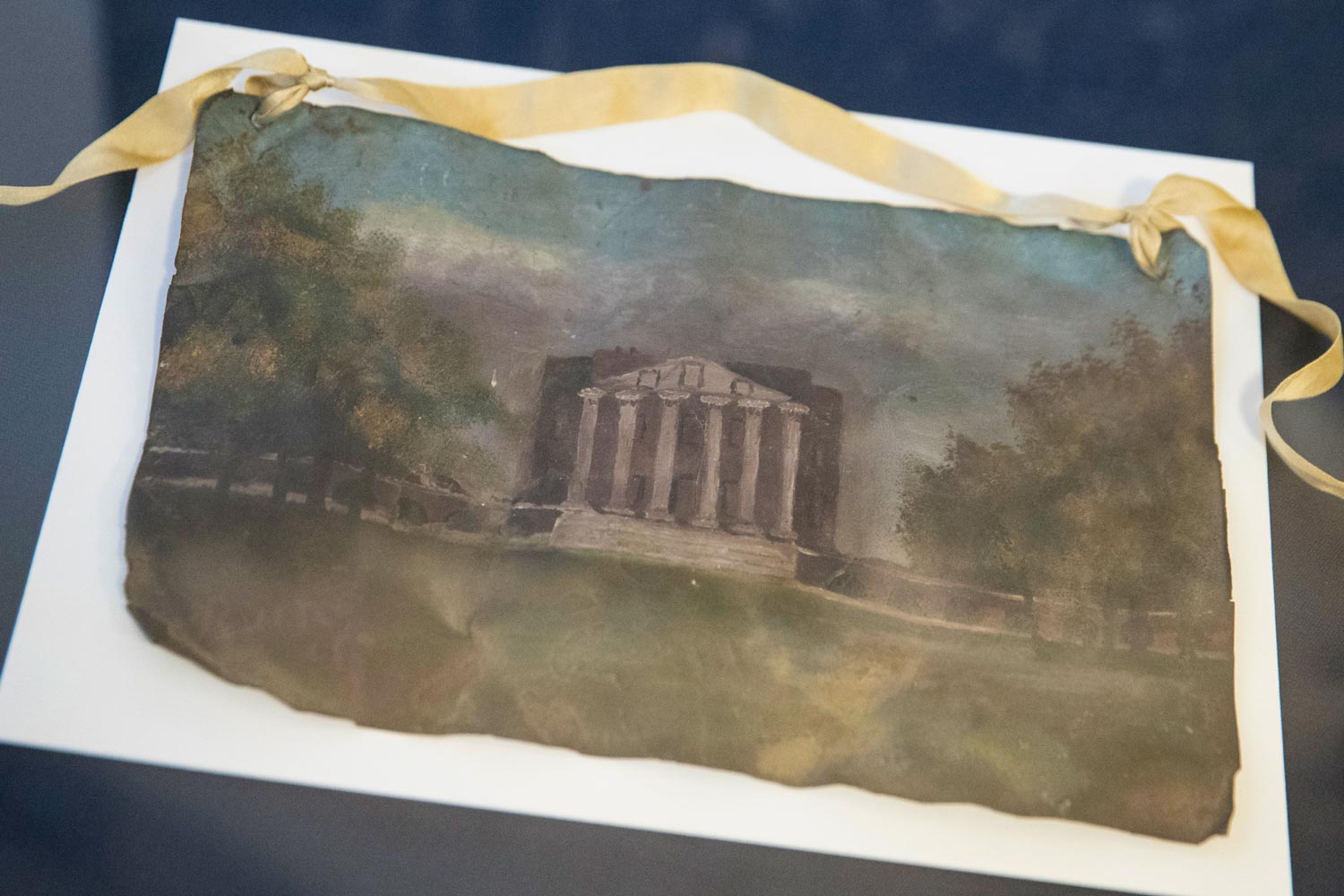 The objects – ranging from Thomas Jefferson's handwritten minutes in the first Board of Visitors meeting to the flag professor Bernard Mayes used in a march for gay rights – each tell an important story about the University and its progress through the years. The exhibition will run through June 22.
Read: UVA in 100 Objects
The Rare Book School Celebrated Its 25th Anniversary
UVA's Rare Book School celebrated its 25th anniversary in 2017. The school is home to more than 80,000 books, manuscripts and other items and is a world leader in the history of print and the art of preservation.
UVA students, faculty and staff, as well as researchers from around the world, participate in the approximately 50 non-credit courses the school offers each year.  
Read: Sharing a Rare Passion
Architecture Students Rediscovered James Monroe's Highland
In 2016, officials at Highland, President James Monroe's estate in Albemarle County, unearthed the previously buried remains of Monroe's large home near what is now believed to be the president's guest house. This year, UVA architecture, architectural history and art history students worked with Highland officials to research and present the discovery to the public.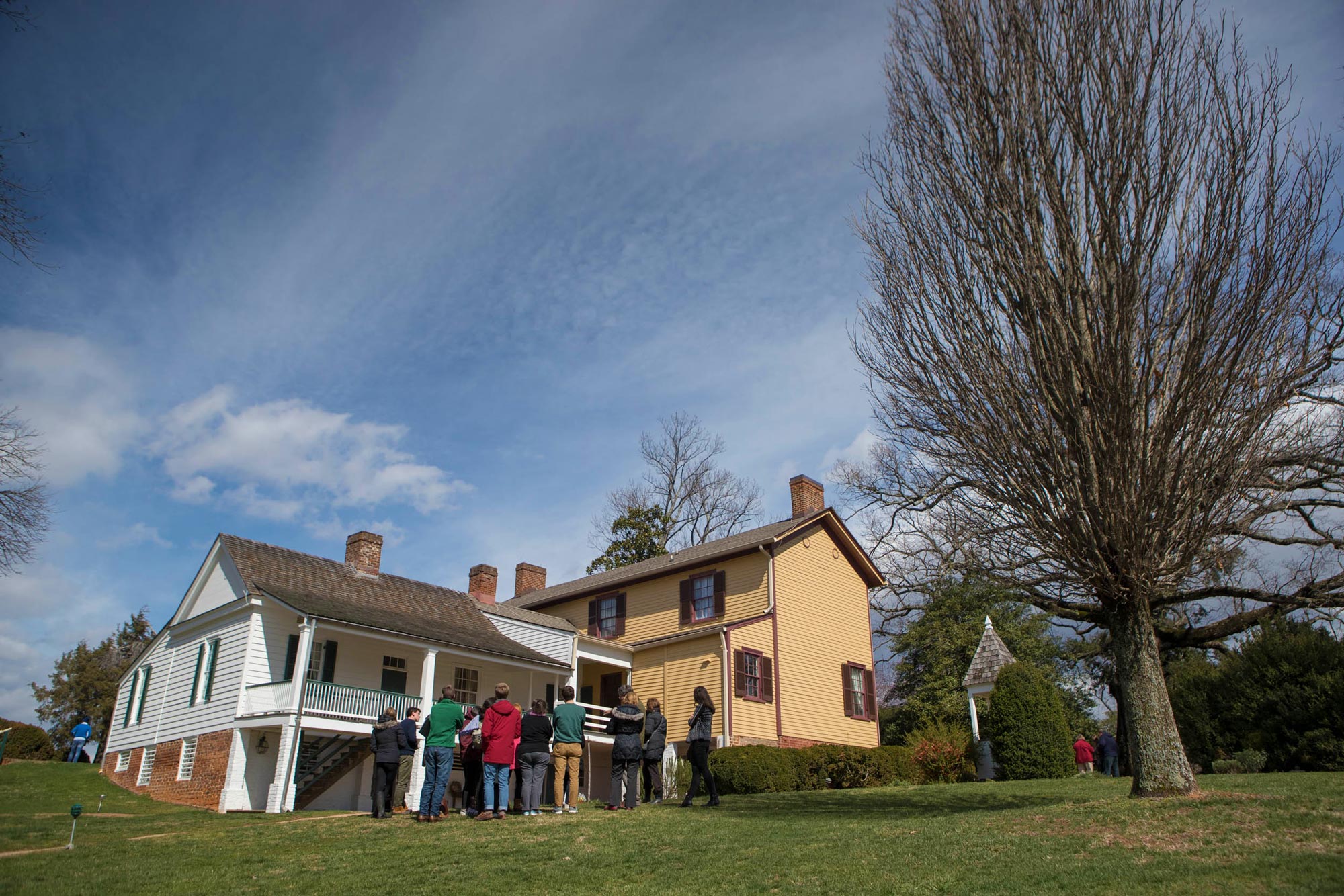 In addition to more traditional methods, the students – all enrolled in architectural history professor Lisa Reilly's "Strategies of Interpretation: Highland" course – experimented with augmented-reality tours, using new technology to recreate the historic site.
Read: Rediscovering James Monroe's Home
WTJU Turned 60
UVA's first FM radio station celebrated its 60th anniversary this year. WTJU went on air in May 1957, broadcasting classical music from a first-floor studio in Old Cabell Hall.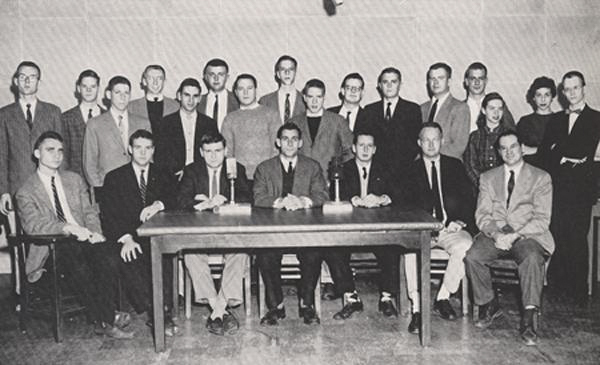 Today, the station and its all-student affiliate, WXTJ, include some 300 volunteer student and community DJs playing more than 1,100 unique songs per week and reaching more than 13,000 listeners.
Read: The Fascinating Six-Decade History of WTJU, UVA's FM Radio Station
A.D. Carson Brought His Own Brand of Hip-Hop to Grounds
A.D. Carson joined UVA's McIntire Department of Music this year as its first professor of hip-hop, after his dissertation – a meticulously crafted 34-song hip-hop album – made waves at Clemson University and in the national media.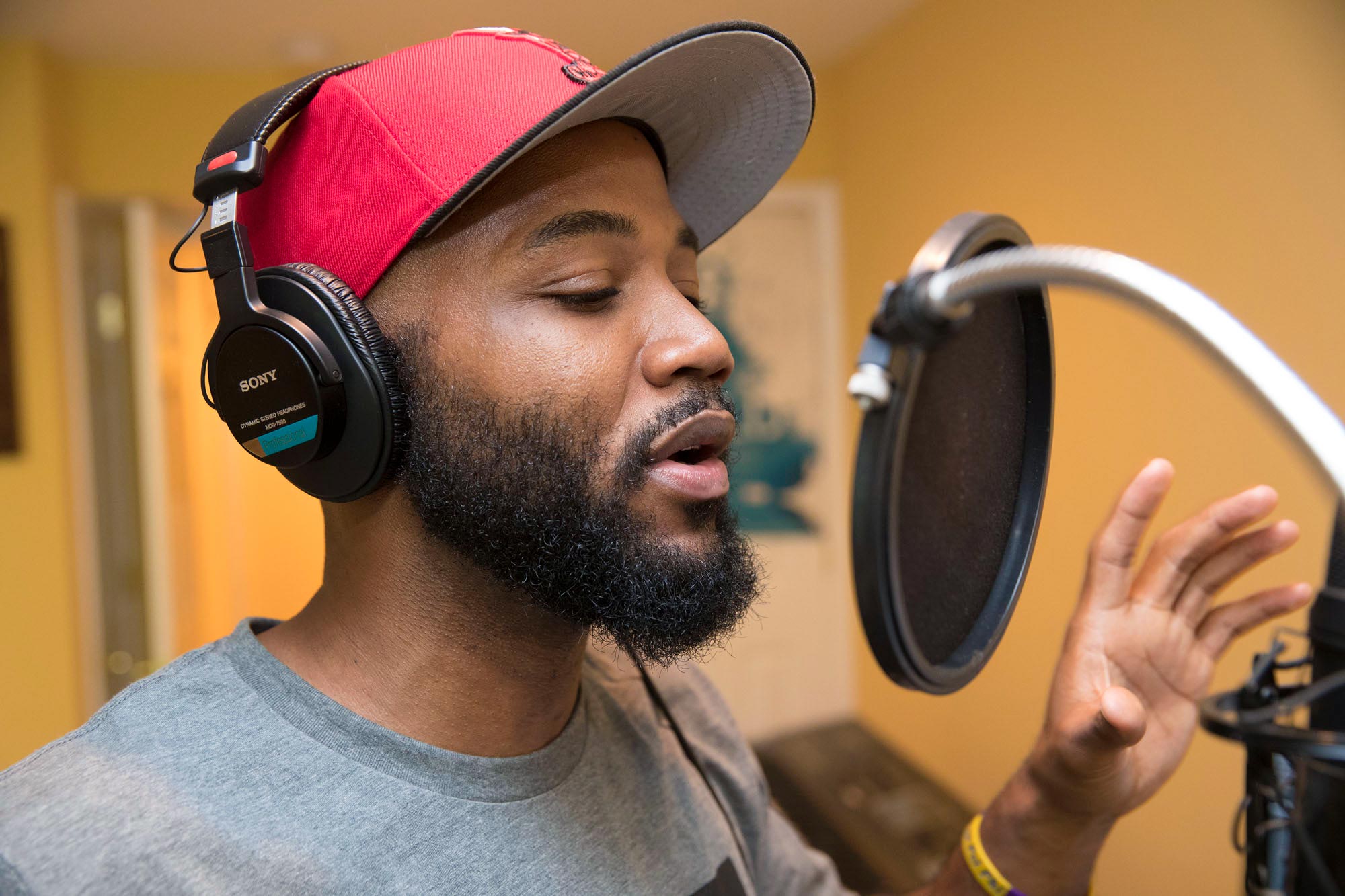 Since coming on Grounds, Carson – one of a wave of new faculty joining UVA – has taught writing and composition classes and "The Black Voice," a course exploring the history and repression of black voices in America, all while producing a second album, "Sleepwalking, Vol. 1: A Mixtape."
Read: Meet A.D. Carson, UVA's Professor of Hip-Hop
Matthew McLendon Took the Helm at The Fralin
Matthew McLendon is nearing the end of his first year as director and chief curator of The Fralin Museum of Art at UVA, where he started Jan. 9.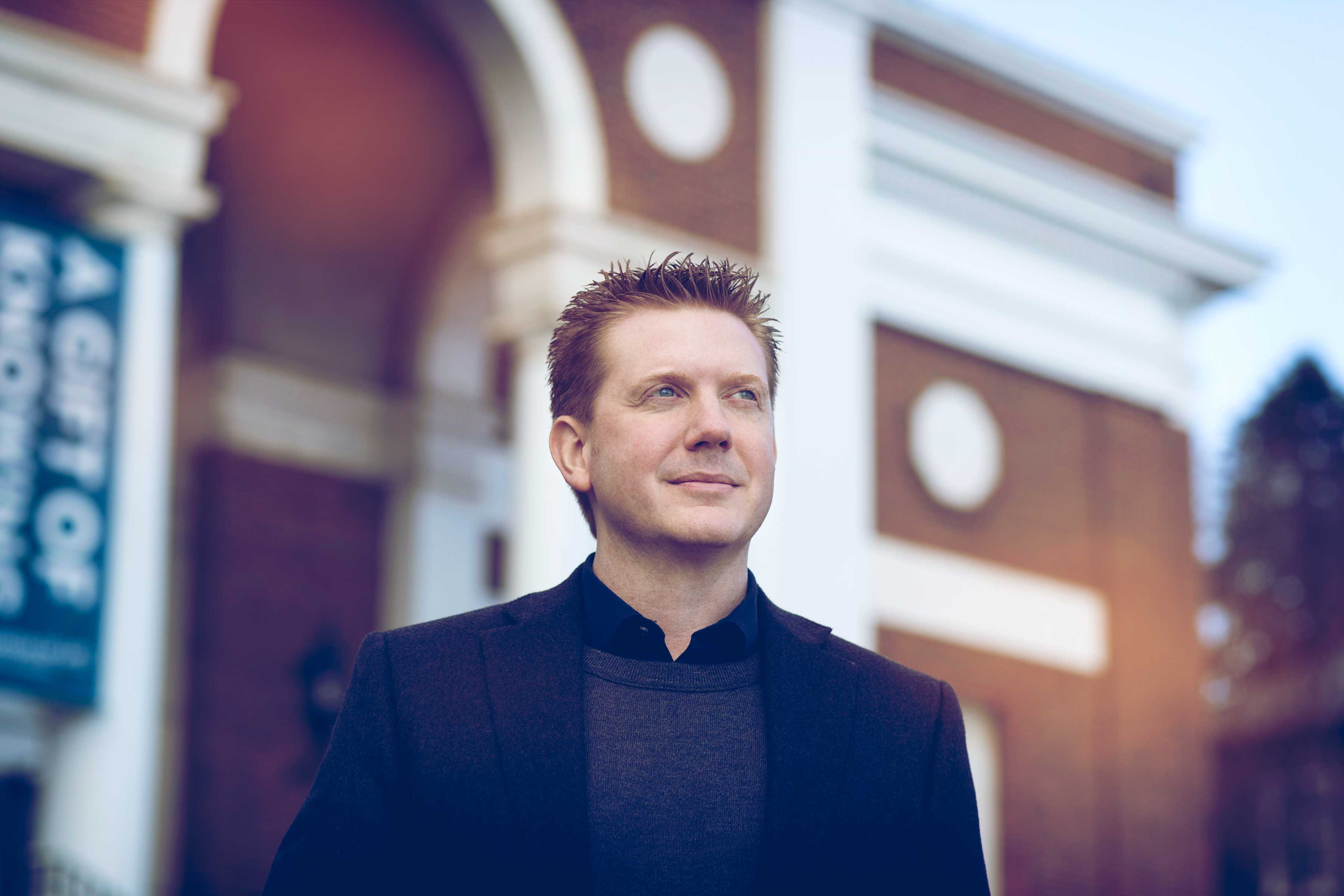 McLendon came to UVA from The John and Mable Ringling Museum of Art in Sarasota, Florida after a rich and varied career that has taken him all over the world, including stints in Italy and London. 
Read: Q&A: 6 Questions for The Fralin Museum of Art's New Director
Kluge-Ruhe Announced Its Largest-Ever Tour
UVA's Kluge-Ruhe Aboriginal Art Collection is the only museum in the U.S. dedicated to the exhibition and study of Aboriginal art. This year, the museum announced its largest-ever touring exhibition, called "Madayin."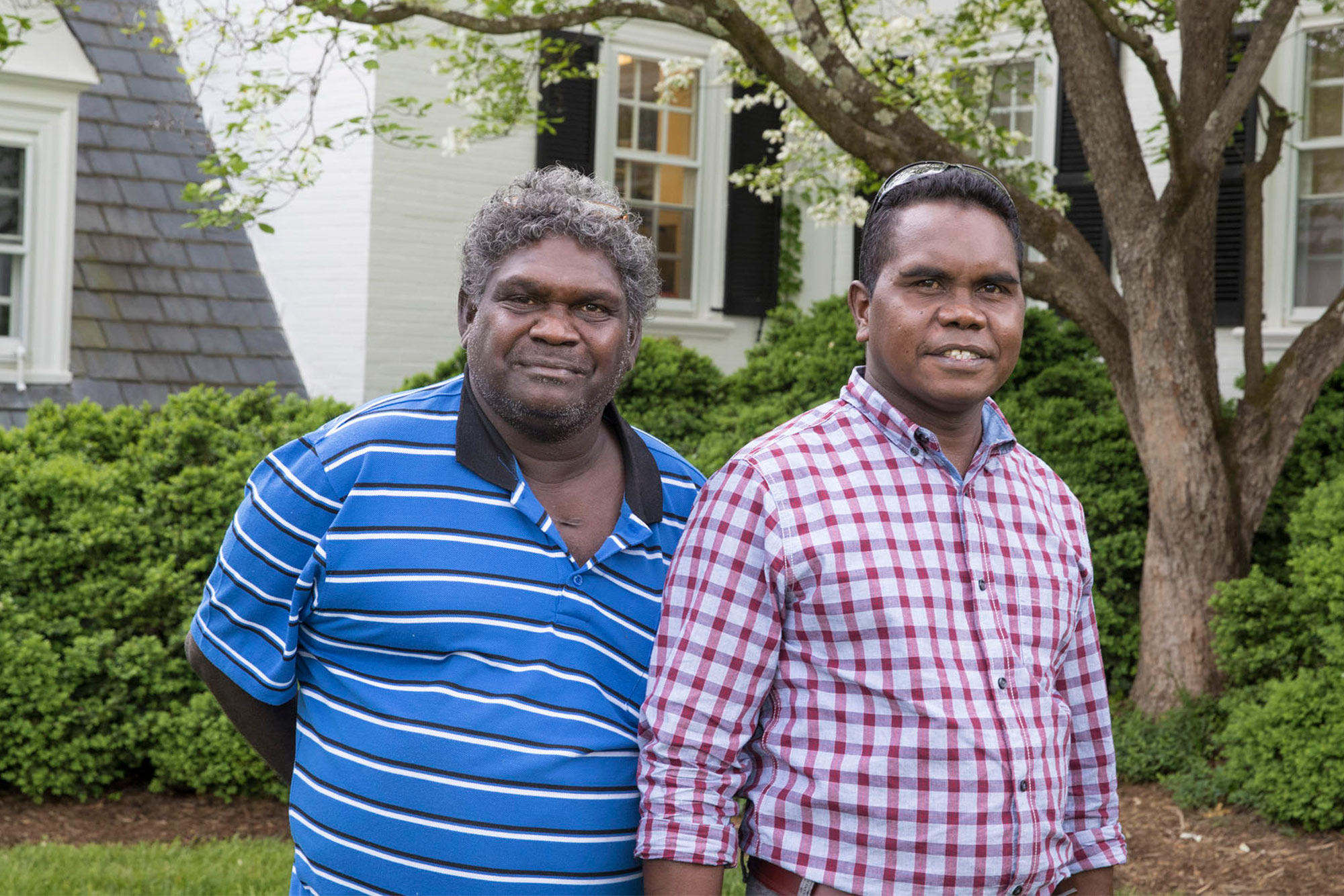 The exhibition, slated to begin in 2020, will include many works currently housed at the Kluge-Ruhe as well as 30 new works commissioned from Yolgnu artists in Northern Australia. Two artists, Wukun Wanambi and Yinimala Gumana, visited Charlottesville in May to mark this year's announcement and begin planning the exhibition.
Read: Bringing Aboriginal Art to America
Alum Kicked Off Post-Grad Album With a Bonus Performance
2017 graduate Nathan Colberg launched a Kickstarter campaign in April to fund his dream of making a full-length album. The young alumnus, a former singer with the Hullabahoos a cappella group, raised all he needed in just seven days.
Colberg performed some of the songs from his first EP – including a special track dedicated to Charlottesville – in a UVA Facebook Live session from 1515, the student center on the Corner.
Read: A Month After Graduation, Alum is Cutting an Album – and He Sounds Amazing
A Clown Came to Grounds
2017 graduate Michael Giovinco – the son of two professional clowns – put on his own circus on Grounds this year. Giovinco, a Miller Arts Scholar majoring in drama and cognitive science, spent much of his fourth year developing the devised circus show, "Grounded," that he performed with classmates in February.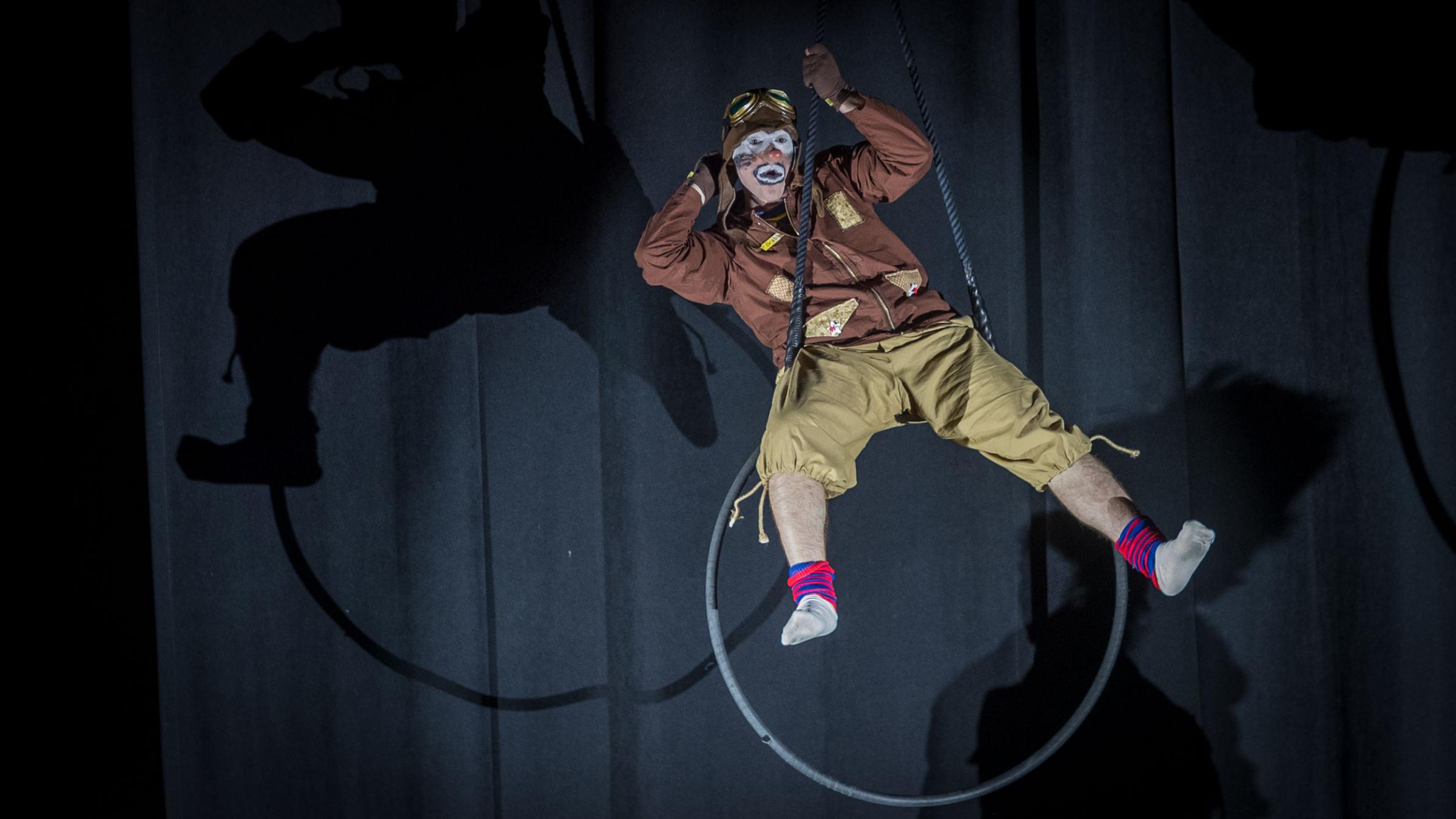 The show included acrobats, unicyclists, aerial silk performers, stilt-walkers and of course, clowns.
Read: Michael Giovinco Isn't Just Clowning Around
UVA Arts Helped Collect Charlottesville's Stories
UVA Arts partnered with The Bridge Progressive Arts Initiative to create the Story Stream project, featuring an Airstream trailer that traveled around Charlottesville recording and sharing stories from community members.
Many students helped out with the project, described as a "diner for stories," to help people connect with and better understand their neighbors and fellow citizens.
Alumna Won MacArthur Genius Grant
This year, alumna Kate Orff earned the right to call herself a genius. Orff, who graduated in 1993 with a degree in political and social thought and now works as a landscape architect, was one of 24 professionals to earn a 2017 MacArthur Fellowship, known as "genius grants" for honoring the best and the brightest in their fields.
Orff is the first landscape architect to receive the honor, which noted, among other things, that the firm she founded, SCAPE, has been instrumental in boosting New York City's resilience and risk management in the wake of Hurricane Sandy.
Read: Alumna Among 24 'Geniuses' Chosen for Prestigious MacArthur Fellowship
Margot Shetterly Netted New Book Deal
Alumna Margot Lee Shetterly is best known for her bestselling-book-turned-hit-film, "Hidden Figures," about three African-American women whose calculations were critical in John Glenn's successful space orbit in 1962. This year, Shetterly signed a contract with Viking Books for two more books highlighting influential African-Americans.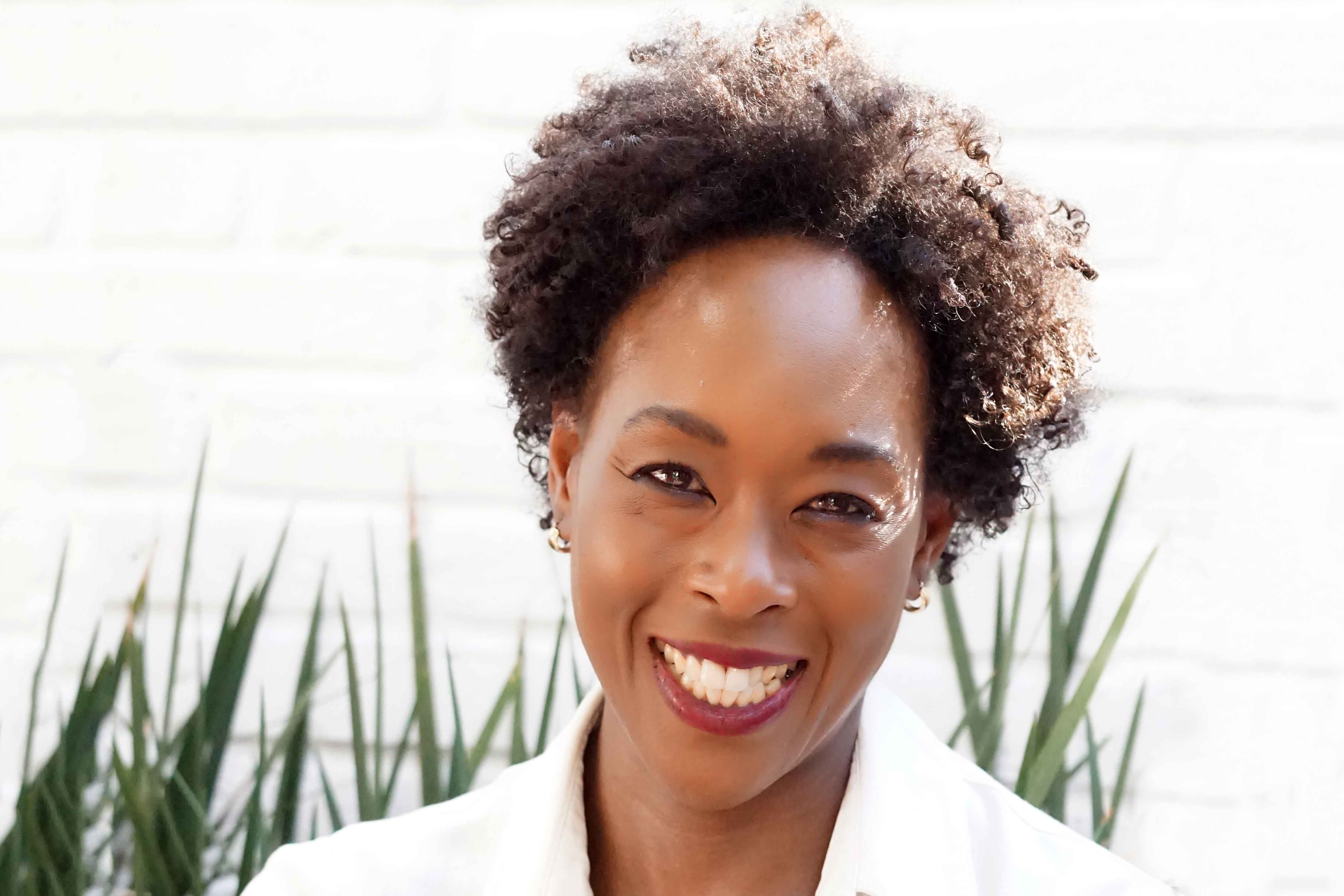 The first book will focus on two families who were leaders in mid-century Baltimore: the Murphy family, owners of an Afro-American newspaper; and Victorine Adams, the first black woman on Baltimore City Council, and her husband Willie, a philanthropist and venture capitalist.
Read: After Blockbuster, Alumna, 'Hidden Figures' Author Signs for Two More Books
The Virginia Film Festival Celebrated a Milestone Anniversary
The Virginia Film Festival celebrated 30 years of extraordinary cinema with yet another festival full of hits. The festival started on a high note with the opening film "Downsizing," featuring a shrinking Matt Damon and Kristen Wiig and produced by UVA alumnus Mark Johnson, the afore-mentioned "Breaking Bad" producer.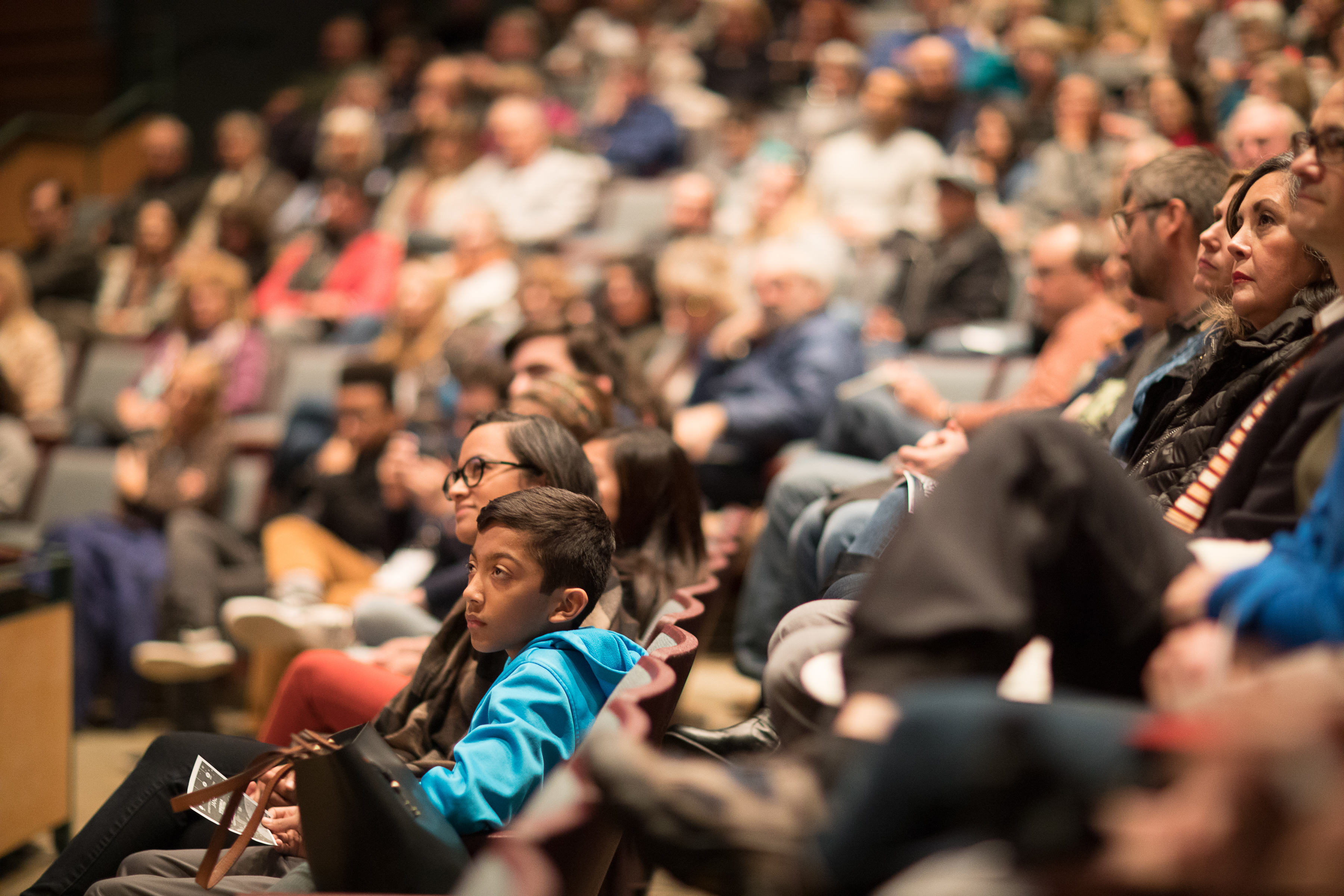 The rest of the weekend delivered just as much excitement and emotion as opening night, with appearances by acclaimed filmmaker Spike Lee, Shetterly, actor William H. Macy, "The Vietnam War" documentary co-director Lynn Novick and more.
Media Contact
Article Information
December 22, 2017
/content/17-blockbuster-arts-highlights-2017